Transcending the Rules: Group Ride with T-Bone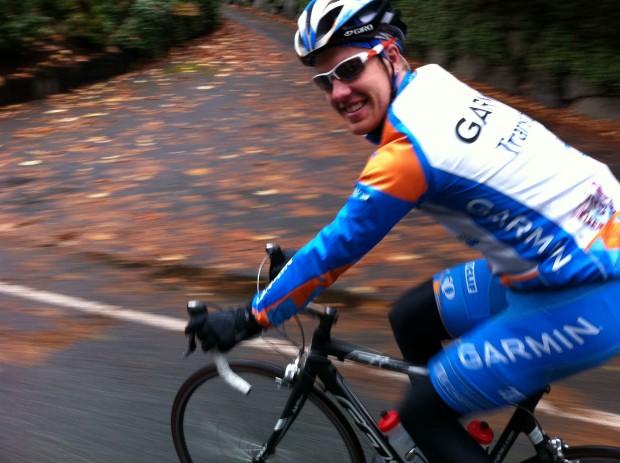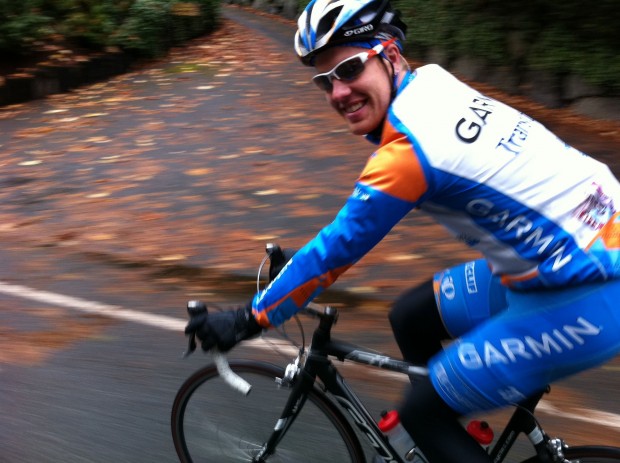 The question has been raised a number of times and the answer has always been vague: do the pros set The Rules, do they Obey them, or are they beyond them? As with everything philosophical, the answer is open to interpretation and difficult to identify. The Rules are about history, culture, etiquette, class, and style. That necessarily means that no active Pro has set The Rules, yet as an inextricably bound fiber of the fabric of our sport, they also significantly contribute to their definition and evolution.
Tyler Farrar hosted a group ride on Mercer Island in Seattle to promote USA Cycling, a program that helped him and many other American cyclist reach the highest levels of our sport. Donations were the only requirement to join the ride, and all proceeds went to towards helping to grow the program. What this means for idiots like me is, "Pay $50 and you get to ride with T-Bone."
Saturday morning dawned with gray skies and wet roads. Sipping espresso while kitting up, I kept glancing out the window as I got ready.  Do I take Bike #1, or do I do the "group ride" thing and take the Rain Bike, fully adorned with mudguards and mudflaps?  Knowing this was Seattle and I'd be encountering many a Fendangelist, I was tempted to do The Right Thing, but the Loud Voice That Talks About Things I Like To Hear kept hollering, "YOU ARE RIDING WITH A PRO. TAKE BIKE #1, FUCKTARD."
It called me a fucktard.  I had little choice but to listen.  Besides, as any Dutchman knows, the loudest voice always wins. Off I went on Bike #1, with tire pressure reduced to 100psi for improved Rule #9 compliance. One doesn't want to slip out in a corner and take out a Pro, does one?
I rode over to the gathering location, propped my bike up against the wall, and went in to register.  There, on a sofa in the corner, sat my boy, T-Bone, chatting up a storm with a kid who was no more than 11. Simultaneously normal and surprising, one of the most remarkable things about meeting people you'd only ever seen on TV or in pictures is how much they look like you expect them to.
I signed up and headed over to introduce myself.  Within minutes, we had concluded that he was not in fact the rider I had encountered the day before, but his fellow teammate who also lives in the area.  With our first Awkward Situation behind us, I felt ready to move onto the ride itself, complete with its associated non-zero chance of irreparably harming the career of one of my favorite riders by doing something "stupid".
The ride was incredibly mellow, and Tyler was the perfect host, rotating through the group to make sure he spent some quality time chatting with everyone. We chatted about this and that. Before long, he asked, "What's Rule #1, Rule #5, and Rule #10?", reading them from my bibs.  I explained, he chuckled, and the conversation carried on. As a segue from Rule #5, the topic of his second place finish with a broken wrist in the Tour came up; I mentioned something about that being "impressive".  He mentioned something about "not wanting to quit" and "just not thinking about it". I don't know, I didn't really understand what he was talking about.
Eventually the topic of Nordic skiing came up – it turns out he also raced the Nordic boards until he turned to cycling, and still skis today. I mentioned that as a Nordic skier, when I switched to road racing, my first thought was, "FUCK.  This is hard." He laughed and said, "That's funny because when I switched to cycling, my first thought was, "This is way easier than skiing".
I suppose that's why he's the one racing on a ProTour team, not me. But that's little more than a hypothesis – there could be other reasons, too. Like talent and hard work. But like I said, those are guesses.
Tyler kept rotating through the group, making sure to talk to everyone, but spent a lot of time riding with the same kid I'd seen him talking to earlier, when I first signed in.  The kid was on a tiny little road bike, unafraid of anything and anyone, bumping shoulders with the rest of us.  Every time I caught a whisper of his conversations with Farrar, it was to the theme of, "So, how old where you when you…", and "So what do you think I should work on next?" He was eating up everything Tyler would tell him, and Tyler was taking great care to share everything he thought might help the little whipper. Class.
As for my central anxiety, throughout it all, no one openly berated me for riding without fenders. In fact, I was pleased to see many other riders were riding similarly naked bikes. We rolled back into the meeting place and everyone dismounted.  More pictures were taken with Farrar, more stories were exchanged. I couldn't resist the temptation to have my picture taken as well, and I asked a goateed young dude who rode in a Spinal Tap t-shirt and floppy spandex shorts to take a shot using my phone.  He happily agreed but as he did so took care to say, "Sure, take the picture now that you look way cooler covered in mud from the ride because you didn't use fenders like you're supposed to."
So there it was, the inevitable.
Before I could rattle off my retort, filled with a comprehensive account of his Rule violations, our Professional Hero and Host responded simply, "Hey, I didn't have them either. Maybe I'll put 'em on when it starts raining more."
The ride was filled with people who were willing to go out on a ride to support USA Cycling and spend time with one of the nicest guys in the Pro Peloton. Rule Violations were rife; but each and every one of these riders came out on a cold, wet, dreary day to ride bikes. On the other hand, Tyler Farrar did not violate a single Rule that I noticed.  Here is a Pro who is (was?) unaware of The Rules, but at the same time does not violate them. Because Tyler Farrar, whether consciously aware of it, lives La Vie Velominatus.
An amazing bike racer, an incredibly nice and approachable guy, and a Velominatus.  My kinda guy. I rode away a bigger fan of Tyler Farrar than I already was.
[dmalbum path="/velominati.com/content/Photo Galleries/[email protected]/T-Bone/"/]