Twistin Banged and Felled. And Got Back Up.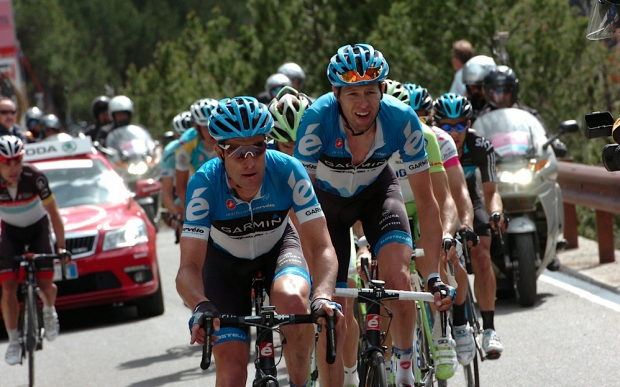 As a byproduct of brakes being strictly for ornamental purposes, cyclists are often forced to find alternative means of stopping their bikes. As a matter of both convenience and effectiveness, the tarmac and other objects of greater mass than the sum of cyclist and bicycle are often employed for this purpose. Collectively, we refer to this process as "crashing" and typically frown upon its use at least as much as using brakes in the first place. While strikingly effective, the process involves several undesirable side effects including a loss of skin, blood, and equipment. It also inflicts some degree of pain. Though tragic when they occur, brain injuries are rare primarily because you can't hurt what you don't have.
Though his powers are weakening, if I was going to identify an authority in this process within the Pro Peloton, I might pick Christian Vande Velde or, as we know him by his Nomen Velominatus: Twistin Banged and Felled. After a career spent in the service of others, Christian rocketed to the top of the "We'll Doom You With Our Unrealistic Expectations" list during the 2008 Tour de France when he flirted with a podium place before falling off his bike while going down a mountain. In 2009, he crashed out of the Giro d'Italia on Stage 3 and, being short on form due to his injuries, returned to the role of domestique for Brad Wiggins in the Tour. He might have fallen off again, but I'm not sure. Let's assume he did, for sake of argument. In 2010, he decided that 2009 was so cracking, he'd try to repeat the formula and crashed out of the Giro on Stage 3 for the second year running. It was all going to plan until he mistakenly also crashed out of the Tour on Stage 2, during the infamous Stockeu oil-slick crash. Oh well, best laid plans and all that.
Amidst of all this brakeless stopping, however, Christian has experienced the aforementioned side-effects acutely. As a result, he has some serious back problems and was forced to grow a few special bones which he then broke just so he could hold the record for Most Broken Bones. He contemplated retirement several times, knowing the battle that waited before him as he lay injured in a hospital bed somewhere in Europe.
Coming back from injury is hard. I'm coming back from laziness myself, and even that's hard. Going out every day, knowing you're not as fast and strong as you were, knowing that all the work it took to get that strong and fast has been lost and all that suffering will have to be relived. It's as maddening as it is demoralizing.
But each time, he gritted his teeth and fought back. When Cycling is in your blood, there is no other way. You may tell yourself you'll quit, or that you'll never do a ride again, but those things are just something your brain and body need to hear before they start something hard over again from scratch.
Twistin Banged and Felled, and got back up. And as his performance as Ryder Hesjedal's super domestique in the closing stages of the Giro d'Italia testifies, it was a fight worth having. More than any of the attacks, sprints, victories and losses, the image that for me identifies the 2012 Giro is that of Christian on the front of the ever-dwindling bunch on its way up the Stelvio. Kilometer after kilometer, after kilometer: Christian with the throttle wide open. Ryder better have given him a special thank you gift from Canada, though I'm not sure what that would be. Miniature hockey stick, probably.