Velominati Super Prestige: 2011 La Vuelta a España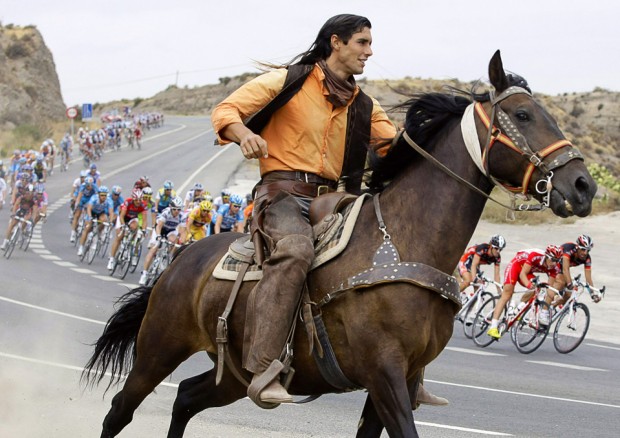 Spain is an awesome country. It has amazing scenery, culture, cities and chicas… oh, the chicas. Its football competition features the world's best players, their national team are the reigning World Cup holders, and they boast world champions in tennis, Moto GP, Superbikes and Formula 1. They regularly kick the collective asses of France and Italy, and a lot of other European countries when it comes to bicycle racing, although most of their recent heroes have somewhat of a cloud hanging over them. So why does their Grand Tour hardly raise an eyebrow when compared to the other two big tours, and why the fuck do they still allow cowards on horses armed with poison darts to taunt and kill a beast as noble as el toro for 'entertainment'?
I can't really answer the last one, but the fact that La Vuelta is treated like the road racing equivalent of a red-headed stepchild is about as fair as the Corrida itself. To me, and to many pros, it is seen as a tour of redemption. Those who, for one reason or another, either due to bad luck, bad management or bad form suffered a less-than-stellar Tour de France, now get a chance to make something of their season and add a 'major' to their palmares. Riders like Jan Ullrich, who in 1999 took the amarillo jersey after sitting out Le Tour with a dicky knee. 2008 saw Contador make amends after his Astana team was prevented from starting le Grande Boucle under a doping cloud. In fact, La Vuelta and doping have more than a passing aquaintance, with Valverde winning while under a pending hearing in 2009, and of course little Robbie Heras getting stripped of his 05 title after an EPO positive. Last year wasn't without its own scandal, with a positive for 2nd place 'sensation' Ezequiel Mosquera dragging La Vuelta's name through the red dust again. It could well be the dirtiest tour of them all, a race that itself seeks atonement as much as those who race it.
This year's edition has the same sense of redemption written all over it, with some of Le Tour's unfortunates having a crack at it. There's Wiggo, who was in the self-proclaimed form of his life before snapping his twig-like collarbone early on. Can he show us what he had promised on the roads of France in the Dauphine, or will the Spanish heat and steep, long climbs be too much for him? How about Jurgen Van den Broeck, also looking great before his own clavicle calamity ended his July. Invisible Denis will also be there, his Geox team considered not good enough for the Tour, out to show that he's still a force and add to his two Spanish victories. Other battered old warhorses who will never give up easily are Andreas Klöden and Carlos Sastre, but father time may have finally taken its toll on this duo.
In reality, it'll probably come down to the younger brigade made up of last year's winner Vinnie Nibali, J-Rod, Scarponi, and Anton. It could be a blow-out, or one of the best races of the year. We may even get another drug controversy to keep up the status quo of years gone by. Whatever happens is anybody's guess, which is why this race is one of the hardest to pick for VSP contenders, and one that might even be as exciting, vibrant and colourful as the country it traverses for three hot weeks.
So pour yourself a glass of Sangria, give the start list a long or glancing look, and post your picks before 5am Pacific time (yeah, I don't know when the hell that is either…) and if you have any doubts, confusion or questions, head to the VSP page for clarification, rules and/or rebuttals. No horsing around, no bullshit.
Buena suerte!