Mustache Monster Mash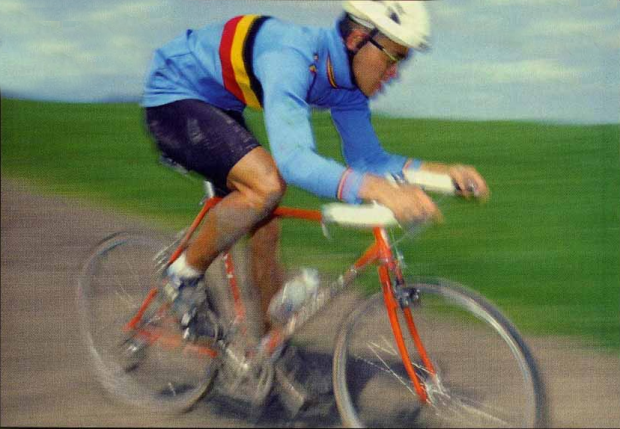 My first bicycle opened a new world to me, one where range was measured by will and pedal revolutions, not steps; the only objective was seeing how far out I could push my range. First, to the border of our community, then to the nearest gas station, and on it went. It was a big yellow contraption with 10 speeds – twelve if you count "crashed" and "out of control", which were the two most commonly used of the lot.
I didn't know I could customize it. I assumed all saddles were steel with a foam and plastic coating, just as I assumed all brakes were ornamental beyond producing a screech that served to deter dog attacks. When the seat became too low, I declared that the bike no longer fit; I had no idea I could raise the saddle.
That bike was a Sears Moonlight Special, and I am quite sure it was made of solid lead pipes and had steel wheels. The bars were possibly wrapped in asbestos. I don't wish I still had it, but I wish I still had my second bike. She was a beauty; a Raleigh with a gorgeous Weinmann group and a stunning metallic paint of brown and black, a color combination that every tailor on Savile Row will tell you is the most beautiful. Fitting, then, that it was an English bike.
At first, all I wanted was to rid the bike of her unsightly brake cables that jutted from the brake levers in the traditional way. This was the late eighties, and all brake levers on modern bikes were "aero" (under the tape). So I bought some DiaCompe levers and set about changing them out. A friend at County Cycles in Saint Paul, Minnesota (famous for being the place where Johnny Cash met "Her") convinced me to buy some Benotto bar tape, and I spent the next few days basking in the amazement of my ability to single-handedly alter the look of my machine so dramatically. (Indirectly, my test rides also taught me about tightening cable bolts enough.)
This experience opened me up to the notion that every bike can be adapted to serve our needs. Every bike has a soul, and every soul has a bike. It could be our #1, or it might just carry us to work, or down to the farmers market. But like a dog with it's pack, it's happy so long as it knows its purpose, its reason for being – and has the opportunity to fulfill that purpose. And whenever we help a bike find its purpose, it bonds to our soul and never leaves us.
You need vision to see a bike's purpose, and Grant Peterson might be the greatest bicycle visionary; he lived La Vie Velominatus long before we put that term to paper. He sees opportunities in bicycles without judgement; it doesn't have to be a racer, or a tourer, or a trail bike – it just has to ride well and be fun. He's been an inspiration since I learned about Bridgestone bikes, and his vision continues with Rivendale Bicycle Works. When time came for him to design a hybrid bike, he chose mustache bars with race-inspired geometry in the belief that just because it's hybrid doesn't mean it shouldn't ride well. I'm proud to walk in his footsteps.
The Nederaap CX-V may have served her run as my main CX/Graveur, but she lives on as the loyal steed carrying me to and from the grocery store, the markets, post office, pub, and any manner of fun and casual expeditions around town. I don't kit up, I don't pump up the tires (although I do thumb-check the pressure, I'm not a savage), I don't plan the route. I just get on, and I ride. And she rides great, is fun, and gobbles up single track just the same as she does tarmac. It makes no difference to her, I just jump on and start pedaling like I did when I was a kid. That's good old-fashioned fun.
Plus, now I can enter the Commuter Grand Prix.
[dmalbum path="/velominati.com/content/Photo Galleries/[email protected]/CX-Mustache/"/]