To Carbone or Not To Carbone?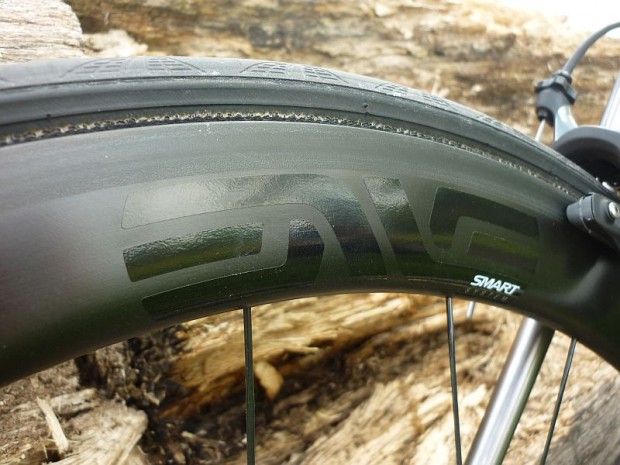 That is the question. Are carbon wheels a viable option for everyday riding? Should carbon wheels be your go-to wheels rather than your just-for-racing wheels? I don't really race and I don't own any carbon wheels and I wonder. Granted, every professional is and has been on carbon wheels for many years so it's easy to think we should be on them too. Brett's review of ENVE wheels certainly made a case for them, who dosen't want to go faster, all the time? Frank has raved about how fast his Zipp 303s are since he first put them on his Cervelo. I hefted his Café Roubaix Haleakala climbing wheels and one dosen't need to heft them as much as hold them down, they are unbelievably light, sub-1000 grams light.
Those wheels are too light for the rigors of the East Maui Loop pavé and potholes, or so I thought. I talked Frank out of using them and he did the Cogal on Zipp 404s and 25mm clinchers. In retrospect, with bigger tires I think he would have been OK doing the Cogal on his climbing wheels. If ultralight carbon wheels are tough enough for that ride then when are they inappropriate? Ambrosio golden ticket aluminum box section rims versus Zipp 303s, let's see, Boonen just won Paris-Roubaix on the Zipp 404s. That is the end of the discussion. It should be the beginning of the end for three-cross box section aluminum wheels. If Zipp 303s win Paris-Roubaix then when wouldn't one use carbon wheels?
@chiasticon-
Surprised to see so much talk of carbon wheels for a Cogal; which is, essentially, not much different than a club run. I understand Frank wanting to run them for his climb up Haleakala, since he was going for a PR up a huge friggin' volcano and I'm sure they certainly helped. But as an every day wheel for a club/social/training ride? At least within the circles I ride in, that's a good reason to get laughed off the ride (comments would especially come from the local racers). It's like saying "I can't keep up with you guys without these wheels!" Or at least that's how people generally take it.

…but how common is it among Velominati to use carbon wheels on an everyday basis?
On the Cogal ride, out of seven riders there were two people on carbon wheels. On our Sunday club ride there is maybe one user. I see a lot of bikes on the site with drool-worthy carbon wheels. Are aluminum rims old school? Are we being played here or are we all just a little behind the times or are we saving our money for better bike investments? 
Strong, light, cheap. Pick two – I'm going to attribute this to Keith Bontrager as it was etched on my Bontrager's stem cap. I'd like to add a fourth adjective, aerodynamic, but my tiny brain can't compute how picking two or three might work so cleverly.
Strong
There are not many high end frames made from aluminum anymore. Could the same case be made for wheels? The aluminum box rim may be light but it is not strong unless you lace a lot of crossed spokes on it. I have some 80s Campagnolo Vento deep wheels, aero maybe, not light and the ride is a bit harsh. An unlaced carbon rim may not be lighter than a light weight aluminum rim but it is much stronger.
Light
I'm afraid carbon is going to win here. While a case could have been made for the Ambrosio golden ticket being strong, it is not light. There are some semi-aero aluminum wheels out there that are light but they make me nervous with their low weight limit.
Cheap
Boing! There it is. Strong and cheap is aluminum's territory. One pays $1100US more for Easton's Carbon EC90 SLX wheels than the aluminum EA 90 SLX wheelset. 200 grams is the only difference between the two models. If that was the end of the comparisons I wouldn't lose any sleep over my lack of carbone wheels but there is still one other factor.
Aerodynamic
Carbon wins this easily. The carbon can be a fairing or integral to the wheel's strength but carbon's moldability is the future. Formula 1 cars are no longer made of aluminum. Boonen must have saved significant energy on the long paved run-in to the pavé sectors using his Zipps, maybe enough energy to help burn everyone off his wheel later on. @Tommy Tubulare's Cervelo with Campagnolo Bora deep carbon wheels makes my heart skip a beat. Carbon wheels look badass. 
Conclusion
Once again I have no informed opinion having never ridden carbon wheels. Would I love to see my bike looking extremely pro with some deep section carbon wheels? Yes. Would it be very bad to be shelled out the back end of a group ride while riding said wheels? Yes, it would be very bad.
Should my wheels be worth more than the rest of the bike? Who cares. Let's address @chiasticon's question, who's riding carbon and when?
[dmalbum path="/velominati.com/content/Photo Galleries/[email protected]/carbone wheels/"/]