Evolution of a Plan, Part II: Record Hubs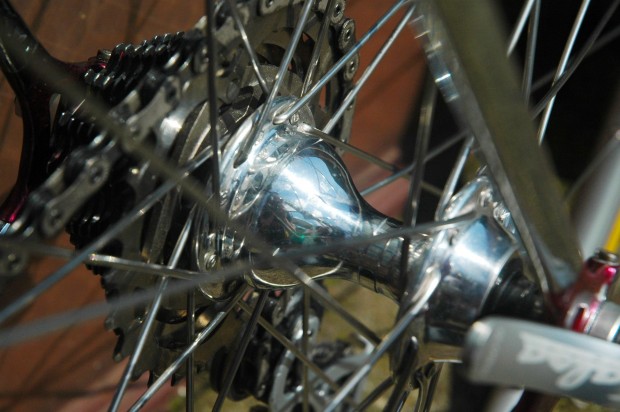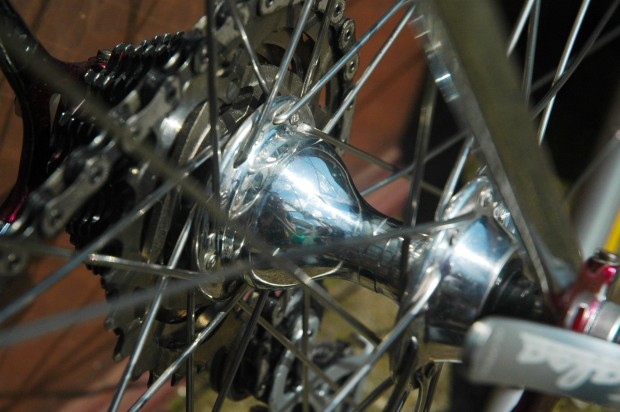 Before my dad bought his C-Record Merckx in the late 80's, the family stable consisted of mostly Shimano bits, with a light smattering of Suntour. All these components were things of beauty – after all, there is something of fundemental beauty in any bike part – but none of these trascended time. In a sense, I could imagine how each piece was conceived, and how it might be made.
During the procurement of that Merckx, we made several visits to De Grimpeur, the shop where he bought it. First to admire the frame after it had been picked up by the shop owner over dinner with Merckx himself; again after the gruppo arrived, and finally as the little bits such as the one-off Campagnolo saddle found it's way to the shop and the bike was built. I was wild with anticipation over the fact that this bike was going to have Campagnolo parts; the closest I'd been to a Campy component was reaching out to touch the television screen as Fignon attacked LeMond on Alpe d'Huez.
Seeing the bike built for the first time, the delta brakes changed the way I thought about components. They seemed otherworldly and I couldn't take my eyes off them. They looked as though they might have been crafted in the fires of Mount Velomis itself. But the gruppo's beauty ran way beyond just the brakes; each and every part had a quality that was missing from anything else I'd ever seen. Indeed, the shape and curve of each component seemed to be defined as much by its purpose as by its beauty, and that beauty was punctuated by the luster of the finish given to each component.
It's this finish, more than anything else, that sets Campagnolo appart from other component manufacturers.  In fact, it's this finish that makes me feel a little bit dirty labeling Campagnolo as a "manufacturer." It's this finish that causes me to bemoan the current trend of producing black components.
The delta brakes were prominent, but there was a more subtle component on the Merckx that I didn't discover until later: the rear hub. This was a thing of unequalled beauty; the way it flared out to the drive side in a luxurious curve of elemental sexiness is a sight to behold. Sunlight twinkled off the hub in that devine way which it can only do off a highly polished, perfectly curved, spinning surface. That twinkle occupied countless hours of my imagination as my dad and I trained together day after day.
As I set about building up my TSX, my attention turned to a set of wheels to match the rest of the bike.  Box rims and a 3-cross laced spoke pattern obviously, but the hubs were a question. I have been spoiled by the ease of sealed cartridge bearings and crave their convenience, but modern hubs lack the beauty of the Old Glory Days; even the current Record hubs look to be made on a lathe rather than by magic, which is a bit sad. Phil Wood, American classic, Royce – they all have amazing hubs – in particular Royce – but they don't capture the imagination the way the old silver Record hubs do.
The truth was unavoidable: I needed a set of old 9/10 speed silver Record hubs. Since the new ones are black and too angular, the search was on. eBay has a healthy flow of these hubs, and although it took some discovery to learn to recognize the 9/10 speed hubs versus the older 8 speed hubs, my watch list was soon brimming with hub candidates.  I let several auctions run out as I tried to get a feeling for the prices the hubs were fetching. I bid on a few and lost out. Then I found a mislabeled set built up with Mavic Open Pros. Because they were labeled only as Open Pros and the auction neglected to refer to the Record hubs, there was very little activity, and they were mine for a bargain.
The amazing thing about eBay is that the patient bidder can come across a dream product for a palatable price. The problem with eBay is you never really know what you're going to get until its in your hands. Mine arrived in absolutely perfect order.  Aside from a thorough cleaning (they were rather dirty), they needed nothing aside from a set of tires. I turned to my old friends the Gommitalia Calypso, and have myself a stunning wheelset.
[dmalbum path="/velominati.com/content/Photo Galleries/[email protected]/Record Hubs/"/]
This Fall, I will tear these wheels down, service the hubs, and build them back up with the Mavic MP4 Tubs that Gianni sent me last year.  The Open Pros will go to another wheelset that is in need of some fresh rims and the cycle will continue.  In the meantime, I'm rather satisfied with the end result, though I have to admit that the Salsa Ti skewers seem a bit out of place at this point; they will eventually be replaced by some good ol' fashioned Campy ones. Everything in it's time.
As I close this chapter, I find myself moving on to the next question: when I rebuild the wheels, which tires will go with them?  Vittoria, FMB? Thankfully, the possibilities are endless; it will take me at least a summer to make up my mind.