The Rides
The Ride. It is the cathedral of our sport, where we worship at the altar of the Man with the Hammer. It is the end to our means. Indeed, The Bike may be the central tool to our sport, but to turn the pedals is to experience the sensation of freedom, of flight. It is all for The Ride.
The world is overflowing with small, twisty roads that capture our collective imagination as cyclists. We spend our lifetimes searching out the best routes and rides; we pore over maps, we share with our fellow disciples, we talk to non-cycling locals all in pursuit of the Perfect Ride.
The Rides is devoted entirely to the best routes and rides around the world. Some are races or cyclosportives, others feature in the Classics and stages of The Great Races, while others still are little-known gems, discovered through careful meditation on The V. Be warned: these rides are not your average Sunday Afternoon spin; these rides are the best and most difficult rides in the word – they represent the rites of passage into La Vie Velominatus. It is to be taken for granted that these rides require loads of Rule #5, many of them Rule #10, and all of them are best enjoyed in Rule #9 conditions. They have been shared by you, the community. The Rides also features articles devoted to the greatest rides and providess a forum for sharing other rides for discussion.
If you'd like to submit a ride or an article about your own favorite ride, please feel free to send it to us and we'll do our best to work with you to include it.
[rideitem status="public" title="Haleakala" distance="56km" category="Grimpeur" url="http://www.mapmyride.com/routes/view/50412514″ location="Paia, Maui, Hawaii, USA"]
Haleakala is simultaneously the longest paved continuous climb in the world as well as the shortest ascent from sea level to 10,000 feet in the world. Though not terribly steep, this is a long, grinding climb that will reduce a strong rider to a whimpering lump.
To put the effort in perspective, this climb is 60km long a an average of 6% with two pitches as steep as 17%. That translates to somewhere between 3 or more hours of nonstop climbing, usually in Maui's direct heat and often into a whipping headwind that spins around into a headwind no matter which direction the switchbacks take you.
[/rideitem]
[rideitem statuc=public title="Liege-Bastogne-Liege" distance="265″ category="Rouleur" url="http://www.mapmyride.com/routes/view/58053308/" location="Liege, Belgium"]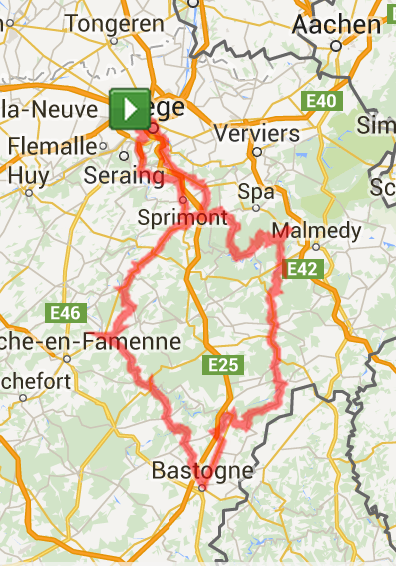 Liege-Bastogne-Liege is not only La Doyenne, the oldest of the Classics, but also represents perhaps the most demanding course in cycling. The 280 km, 3000m vertical route starts with an easy ride out from Liege to Bastogne which lulls riders into a false sense of security; the hills are frequent, but none of them terribly demanding. Into Bastogne, and the story changes on the way back to Liege with 9 categorized climbs in the second half, including the fearsome Côte de la Redoute and the Côte de Saint-Nicolas.
[/rideitem]
[rideitem status=public title="Paris-Roubaix" category="Hardman" distance="265″ url="http://www.mapmyride.com/routes/view/58052610/" location="Compiégne, France" guideurl="http://www.cyclingpave.cc/" guide="Pavé Cycling Classics"]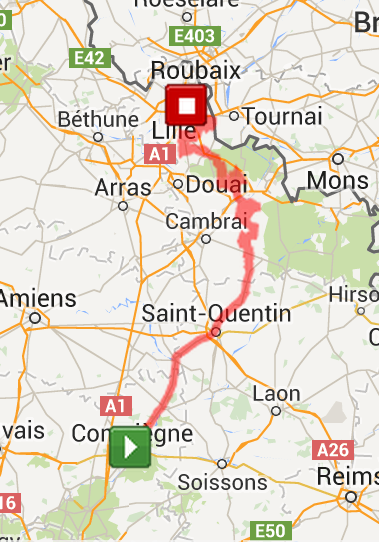 L'enfur du Nord. The Hell of The North. The Queen of the Classics. This isn't a ride over the stones from your local brick-paved roads. You think climbs are what make a ride tough? We've got news for you: this is the hardest ride on the planet and it boasts a maximum elevation of 55 meters. These are vicious, brutal stones; the kind that will stretch each kilometer to their full length, the kind of stones that you will feel long after the rattling of the bars has stopped. These stones will change you. Forever.
[/rideitem]
[rideitem status=public title="Mortirolo/Gavia Loop" category="Grimpeur" distance="115km" url="http://www.mapmyride.com/routes/view/59027020/" location="Bormio, Italy" contributor="Joe"]
The Mortirolo is perhaps the most feared pass in Western Europe, and the Gavia the most storied. Given their proximity to each other, its a wonder why this isn't the most talked-about ride in Italy. Maybe it is; its impossible to say without being Italian. The loop nature of this ride makes it feasible as a solo escapade, but any ride with the kind of stats this one bears – 3200 meters ascended in 115 kilometers including the viscously steep Mortirolo – is best enjoyed with a riding partner or support car.
[/rideitem]
[rideitem status=public title="200 on 100″ category="Grimpeur" distance="330km" url="http://www.mapmyride.com/routes/view/58052808/" location="Vernon, VT" contributor="cdelinks" contributorurl="http://cyclowhat.com"]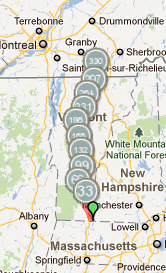 "Dumptruck of Awesome" has become the catch-phrase associated with this brutally hard, yet strikingly beautiful 330 kilometer (200 mile) ride down Vermont Route 100.  This ride was made popular during the summer of 2011 when Ted King, Tim Johnson, and a local amateur cyclist, Ryan Kelly, documented this ride on film. The ride starts on the Canadian border and finishes on the Massachusetts border.  With over 2500 meters of climbing on this 330 kilometer ride, you will need to pack a few lunches to get through this one.  Do this ride in the Fall, and the foliage might be beautiful enough to distract you from the horrible pain you will most certainly suffer.
[/rideitem]
[rideitem status="public" title="De Ronde Van West Portlandia" distance="76km" category="Grimpeur" url="http://www.mapmyride.com/routes/view/15276210″ location="Portland, Oregon, USA"]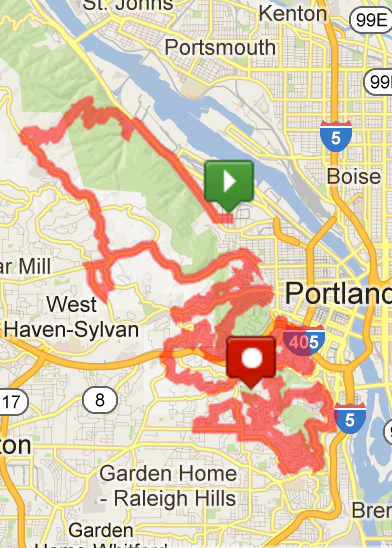 A ride that officially "never happens" each spring, this 76 km route charts a course through Portland's West Hills, paying homage to the European Spring Classics. Approximately 1,800 meters of paved and unpaved climbs are spread throughout the course, with several sections reaching grades of over 20%. More information can be found at Ronde PDX.
[/rideitem]
[rideitem status=public title="Seattle Master Urban Ride" category="Rouleur" distance="130km" url=http://www.mapmyride.com/routes/view/57732282 location="Seattle, Washington, USA"]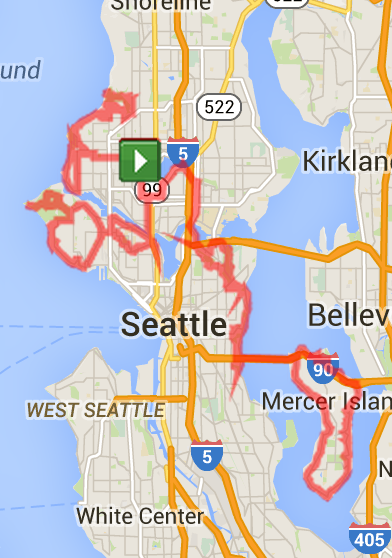 This is perhaps the most challenging urban route in Seattle, hitting three of the big hills that define Seattle's topography. The route starts and ends on Phinney Ridge, but hits the climbs of Interlaken and Alder Street/Lake Dell Drive on its way to Mercer Island, before coming back to hit Queen Anne and Magnolia, weaving its way up each of these hills as many times as possible via the steepest route available before the finale to the north via Golden Gardens, Blue Ridge Drive, and Carkeek Park. Panoramic views of the Cascades, Mount Rainier, Mount Baker, The Olympic Penninsula and Puget Sound makes this a standout Urban ride.
[/rideitem]