Rule #29: When is an EPMS not an EPMS?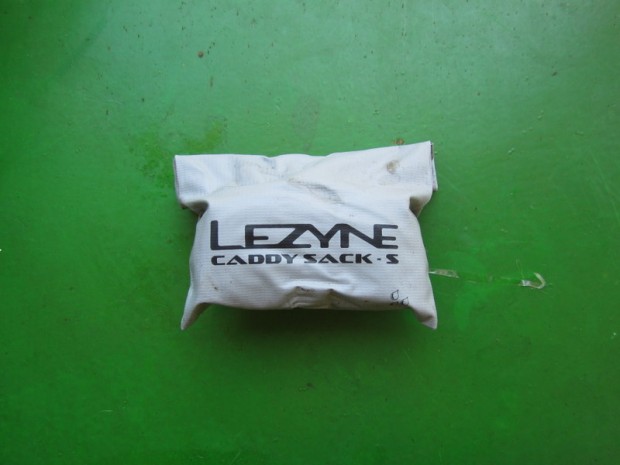 Saddle bags have no place on a road bike, and are only acceptable on mountain bikes in extreme cases.
Saddle bags: how do we define them? Is it a saddle bag if it attaches to the seat post and the saddle, if it has a zipper, if it is leather, has two natty straps with buckles, if it swings below the saddle like bumper bollocks?
I weaned myself off a discreet EPMS after twenty-five years of use. I was not happy about transferring the contents to a rear pocket but I'm a team player so I conformed. Previous to that was the 'core sew-up tire held under the saddle with spare toe clip strap. Back then bikes only had one bidon cage, held on with paint ruining metal clamps. The position forward of the seat tube was reserved for a silca frame pump. Some ride with a tire in a jersey pocket, but with no second bidon to bastardize, it usually had to go under the seat. At least we weren't wearing tires around the shoulders. I'm not that old, FFS.
When I see professional cyclists out training here, they rock the EPMS. Am I going to correct Ryder, not in this life. I couldn't catch him to start with, if I did I would be too winded to explain myself and really, why? If you ride clincher tires, with inner-tubes or sealant, one has to carry some tire levers and a spare tube, at a minimum. My custom waterproof phone/money/drivers license/inner-tube/levers/5mm allen wrench bag was a fat bastard. Getting things out of it quickly or elegantly was near impossible.
Then Lezyne came to the rescue with the waterproof mobile phone/money/card /fits in cycling jersey pocket, wallet. They actually didn't come to the rescue, I paid retail for it but the design rescued me with its brilliance. The phone is in a safe waterproof compartment yet one can access and operate it through the clear plastic window. So all that went into my center rear pocket, but left me with a tube/levers/5mm allen key to stow, in another pocket? Nay, it's the Lezyne caddy sack, I'm thinking this tucks under the seat, held with old toe clip strap; the clincher rider's spare tire, without the tire. It's a sew-up without the outer casing. It's a nod to the old school in a nice waterproof pvc dry sack, and yes, that is crap.
What does Frank say? I believe his words will be something like "What you have here is a crude looking EPMS held under you saddle with a nasty looking old strap." Where does he store his spare sew-up tire? I'm already abusing Rule #1, Rule #30 and now Rule #31 too. Luckily or sadly, he is many miles away probably won't get wind of this.
[dmalbum path="/velominati.com/content/Photo Galleries/[email protected]/EPMS/"/]