La Vie Velominatus: Rebirth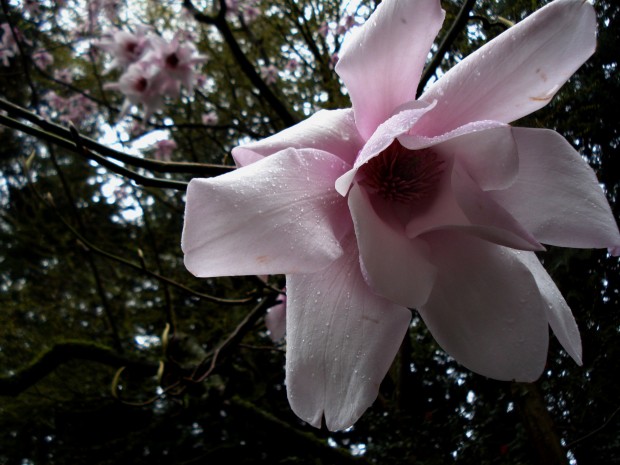 Wind is an asshole. I have no patience left for it. It has all of it been used up, gone, finished. It is the only force that I'm aware of (with the possible exception of gravity) that is more stubborn and less willing to listen to reason than I myself am. It blows me around on my bike, it embezzles speed from my Magnificent Stroke. No matter how emphatically I lose my temper with it, no matter the unprintable curses and insults I hurl in its direction, it just keeps on blowing like a big stupid blowing thing.
The weather systems that move in and out of the Puget Sound Convergence Zone are accompanied by a gale and, and as every Cyclist knows, gales blow exclusively against the direction of travel. With the changing seasons come the frequent storm systems and the unreliability of the meteorologists is amplified by the complexity of the weather patterns. Taking Bike Number One is a gamble during any of these times, but sometimes living dangerously feels better than it is sensible. Every now and then, taking #1 when you really shouldn't can offer a bit of much-needed redemption.
Fall winds steel us for the arrival of colder, darker days. Winter around here comes with less wind, but with annoyances of its own. Our friends in more harsh climates than mine will agree: we have had a dark Winter here in the Northern Hemisphere. Seattle is a mild place to live, but even here the damp, cold, short days have taken their toll. The sun is down when I arrive at work, and it is down when I leave for home. With vitamin D in short supply, our moods sour, the chickens stop laying their eggs (there is no creature more entitled than a clucking chicken who refuses to lay an egg), and alcohol, food, and sloth start looking like viable plans of remediation.
But as Winter makes its slow exit, the winds begin to blow once again and Spring starts to dot hints that she is about to make her entrance. The redbud trees are in blossom, and the Earth is letting loose the green stalks of tulips and crocuses. The work we did over the winter was supposed to make us feel strong and fast; instead, trees bow to our arrival as the wind pushes against our face and robs us of the free flight that a Cyclist in form works so hard to achieve.
Nevertheless, this weekend I rode with bare legs, the strong headwind filling my senses with the fresh smell of damp, life-giving earth and budding blossoms. Rebirth is infectious and like the trees and plants around me, so too have I been reborn. 
Wind might well be an asshole, but when it signals warmer, brighter days it somehow seems more tolerable. Vive la Vie Velominatus.