LeMaster of the V-Locus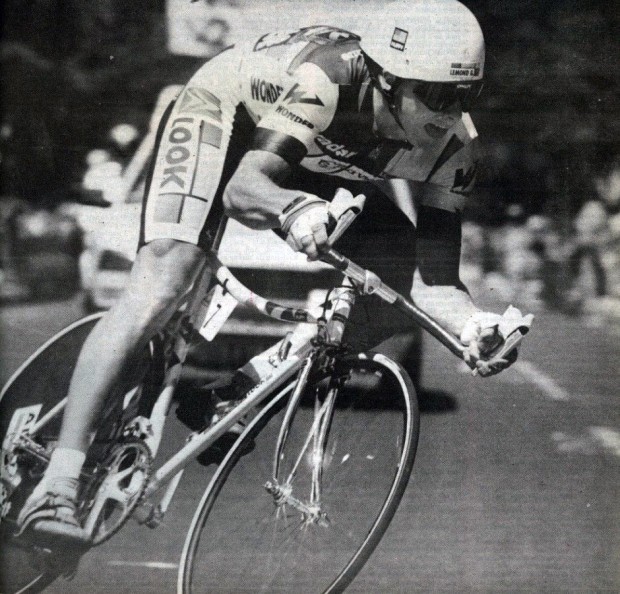 Finding The V-Locus is something of an extension of the Goldilocks Principle; bars set somewhere between Sit Up and Beg and a face-plant, saddle height somewhere between speed skater and Baryshnikov, and reach somewhere between a unicycle and the Batpod. This is art more than it is science, a process of iteration and refinement. And everyone knows "iteration and refinement" is the formal way of saying "we're making this up as we go along."
We are in the midst of a Sit Up and Beg Epidemic, and with that comes an emphasis on the rare rider who looks completely natural on their machine. There is a sense of ease that belies the power the rider generates; the position must allow for balance between opposing forces experienced while riding on two wheels, not to mention the sophisticated coordination required to coax a system of muscles that can only push or pull into generating power through a perfectly circular pedal stroke.
Cyrille Guimard is known to be a kind of grand master of il posizione, having been responsible for developing all three of the dominant Grand Tour riders of the late seventies and eighties. These three riders – Bernard Hinault, Laurent Fignon, and Greg LeMond – shared a common theme: their positions on the bike was so beautiful it has been scientifically proven to have cured infertility in women who watched them race, indirectly accounting for the baby boom in the 70's and 80's.
Of the three, LeMond stood out as being the most perfect, pioneering the use of the wind tunnel to refine his position to maximize the balance between physiology and aerodynamics in order to wring the most V from himself and his machine. He had the advantage of living in an era when frames were tailor-made like a suit on Savile Row but he used it to great effect, tweaking seat tube angles to maximize use of his long thighs and stretching his top tube to account for his long reach reach. In America at least, it's easy to pick out riders who took a page out of his book on positioning, riding long and stretched out positions and mashing gears heels-down at 60rpm while gently rocking their shoulders. It brings a tear of joy to my eyes whenever I see it.
In our day of cookie-cutter carbon frames, we're often left to refine our position through stem length and seatpost setback, but that's no excuse for allowing us not to Look Fantastic and natural on the bike. Take heed of the Apostle LeMond and don't stop tweaking until you have found your V-Locus.
[dmalbum path="/velominati.com/content/Photo Galleries/[email protected]/LeMaster/"/]