Professionals: Rule 5 and No Room For Protests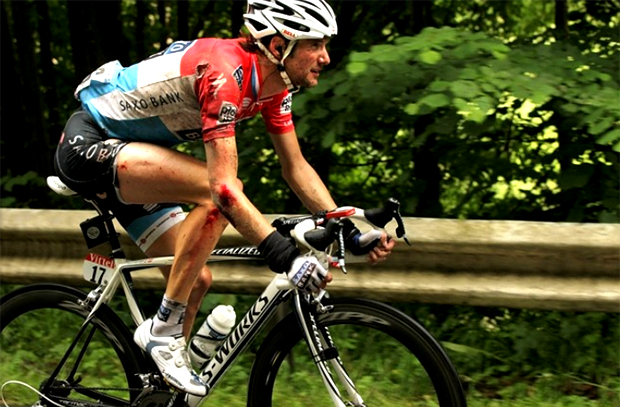 First and foremost, as a cyclist and a devoted fan of this sport – a Velominatus, no less, – I express my deepest sympathies to the riders who crashed in Stage 2 of the Tour de France.  Blame was cast around, but as pointed out by Ben, there were many months of opportunity for the riders to  express their concern about the route – yet no one did.  That is because it was a good route; one raced by Eddy Merckx so many times the very climb whose descent caused the carnage in today's stage bears a statue of his likeness.
In the end, the organizers cannot be held responsible for bad weather, and the riders cannot be held accountable for reacting in collective self-preservation when sticken en masse. Perhaps the stage finish should have been contested, and perhaps some will rue today's lost opportunities, but the strongest riders in each competition will prevail, I'm sure of that. The lines between sportsmanship and Rule #5 were murky, and it really got everyone talking.  We're all eternally biased by our views and our passion; that's one of the things that distinguishes us from "science" and makes this a "sport".  And goddammit, I love it and if there is one thing we do here at the Velominati, I hope it's that we have a chance to say what we want to say and have a conversation.  No matter how wrong everyone else is.
The point I'd like to make is that what makes each of us a professional in our own little discpline is our ability to separate what we want to do from what we are paid to do.  Tomorrow's stage three is a case in point.  Let today be what is was; Stage Three will feature a rough ride over some of the worst roads in Europe.  But, the men bouncing over those roads will not be amateurs out for a Tuesday group ride.  These will be professionals – many of whom are paid very handsomely – and their job is to race their bicycles across the route that the race organizers have laid out.
They are paid handsomely for a reason: their job is difficult and not many can accomplish what they are asked to do.  To be a professional cyclist means being able to do things and endure pain that I am humbled to imagine (quite frankly, I'm afraid of needles).  But the reason there is a paycheck waiting at the end of the day is because the professionals are providing a service that is worth paying for.
That "service" happens to be  entertainment.  If you'd like to protest the route, you have several months before the race to do so.  Once the race starts, protests have no place in this sport.  A professional should get on with their job, no matter how difficult it is.
I feel horrible for any rider denied their chance to a "fair" race – including Banged and Felled, Gesink, and Farrar – who may or may not be broken – but the fact remains: this is a bike race and shit happens.  You are paid to race a bike because you're better at it than we are, and because competition is unpredictable, despite the fact that it may break our hearts.  In that light, to neutralize tomorrow's race would be as bad as if we'd found a motor in Spartacus' Shiv at the Prologue; it would be devastating beyond what any of us can justify in our passion of this sport.
Let me conclude this article with Five Ghosts from Tours Past, in case you still think today's racers have it too hard:
The first Tour was 6 stages and 2,428 kilometers.  This year's Tour is 3,642 kilometers in 20 stages.  That's 3.06 times less Rule #5 than in 1903.
Dérailleurs were illegal until 1937.  Mountains weren't, though, so riders had to loosen their rear wheel and reverse it to have a (marginally) better gear on the way up or down a hill.
In 1913, Eugene Christophe has to repair by welding his own fork after a crash in the village of Sainte-Marie-de-Campan (my favorite  village in France).  He refused assistance as being helped would render him disqualified from the race.  It was each man for themselves in 1913.
In 1963, the Tour organizers reduced the length of the individual time trials (plural) from 111 kilometers to 79 kilometers.
As recently as 1983, the Tour's passes still contained unpaved roads.
A couple of rough roads don't seem so bad when you look at that list.
I ask the Pro Peleton: Please don't neutralize the race tomorrow.  For better or for worse, this is what you're paid to do.  And next year, when the roads look this sketchy, take it up with the organizers in a professional way so everyone – the fans, the riders, and the organizers, all know what to expect.