Self-Chosen: Il Pirata & Il Giro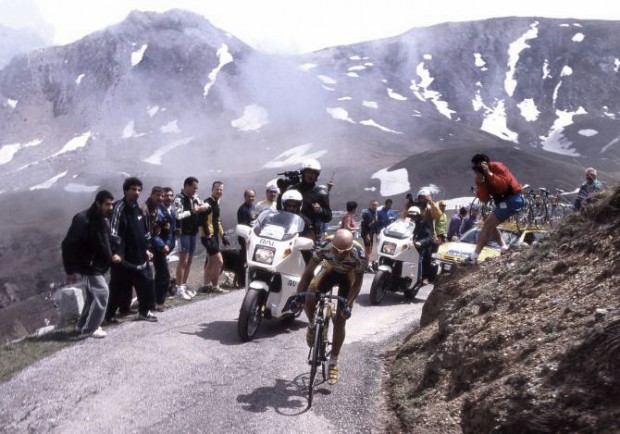 We continue our Six Days of the Giro series with a look at the troubled bond between Marco Pantani and the Giro.
Some were meant to be tormented, as though it were preordained that their brilliance should be balanced with fatal flaws. These are tortured souls, whose dramatic highs are equalled only by the devastating depths of their lows.
Cycling drinks its fill of these personalities, and climbing seems to attract more than its fair share. Shakespeare himself couldn't divine a better premise; the discipline most focussed on suffering in a sport totally focussed on suffering will always attract the most enigmatic of sorts. Charley Gaul, José María Jiménez, Marco Pantani; the list goes on.
Italy's geography seems to lend itself to climbing and therefor suffering. There are mountains from north to south, and it being a narrow stip of a country, there is no occasion to avoid them for very long before any parcourse is once again forced to go over them. Already Monday's Stage 3 of this year's race is a lumpy thing with two categorized climbs and Stage 4 has an uphill finish. This will be a race for those able to suffer.
Pantani in particular seemed inextricably bound to the Giro. Even before winning in 1998, he found himself winning some of the hardest mountain stages, though his temperament dictated that for every great day on the bike, he would be pay at least V bad ones. In 1999, he looked to be the sure winner before registerring a hematocrit over the UCI 50% limit at Madonna di Campiglio. In 2000, he returned once again, but was far from his best and rode in support of his teammate and eventual winner, Stefano Garzelli.
He struggled on for a few more years, but always tried to shine in Italy. In 2003, in a heart-wrenching display of defiance, he gave the last of himself in vain before disappearing from the sport for good.
It reminds me of a song written by a man who's life was similarly tormented, Layne Staley. Perhaps Layne and Pantani were two parts of the same whole.
My pain is self-chosen
At least, so the prophet says
– Layne Stayey, River of Deceit
Maybe Layne could have been a Cyclist in another life.