The Unsung Hardmen: Herman Van Springel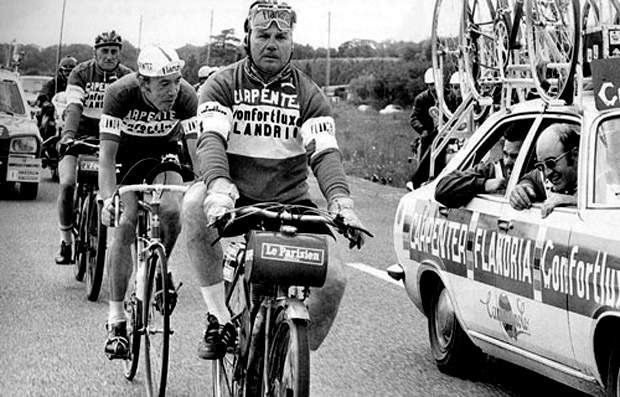 Making a name for yourself in the pro ranks during the heyday of Merckx, De Vlaeminck, and Maertens would have been tougher than making a name for yourself in the pro ranks during the heyday of Merckx, De Vlaeminck, and Maertens.  Especially, I would think, if you also happened to be Belgian. But with somewhere around 145 victories in a career which spanned from 1965 to 1981, Herman Van Springel did just that.  Well, as much as anybody was able to racing against the Hardmen of the day.
Van Springel's palmares includes podium finishes in all three Grand Tours.  He lost the '68 edition of the Tour by 38 seconds in the final stage, an individual time trial, to Jan Janssen.  Sound familiar?  (Faux sneeze into arm, Fignon).  He also won the Tour's green jersey in 1973.  He did so without winning a single stage.  Also sound familiar? (Faux sneeze into arm again, Hushovd).  Sprinkle in some podium finishes at Paris-Roubaix and the World Championship Road Race and you've got the makings of the top of the also-ran list.
Where Van Springel really shined was in the 560km, derny-paced, Bourdeaux-Paris.  With seven wins in the former classic, he could have been aptly named "Mr. Bourdeaux-Paris".  No other rider comes close to his record at this race.
The proudest moment of Van Springel's career probably came in the 1968 edition of the Giro di Lombardia.  Coming into the day, Van Springel held the lead in that year's Super Prestige for best 'all-rounder' with 194 points.   Everybody who was anybody back then lined up at the start.  Imagine looking around the peloton and seeing the likes of Merckx, Gimondi, Godefroot, Van Looy, Poulidor, and Janssen.   By race's end, Van Springel soloed to victory, exacted revenge on Janssen for that year's Tour and collected the 60 points to secure the Super Prestige Pernod Trophy.
While no doubt celebrated in his day, Herman Van Springel seems to lack frequent mention in the cycling annals of today.  So we at Velominati thought we'd give the old chap a bump and a chapeau.  For winning the best 'all-rounder' in a time when the all-rounders out-classed, out-ranked, and out-numbered the 'specialists' of the time deserves praise.