The Way of the Cycling Disciple: Publication & e-Book Sampler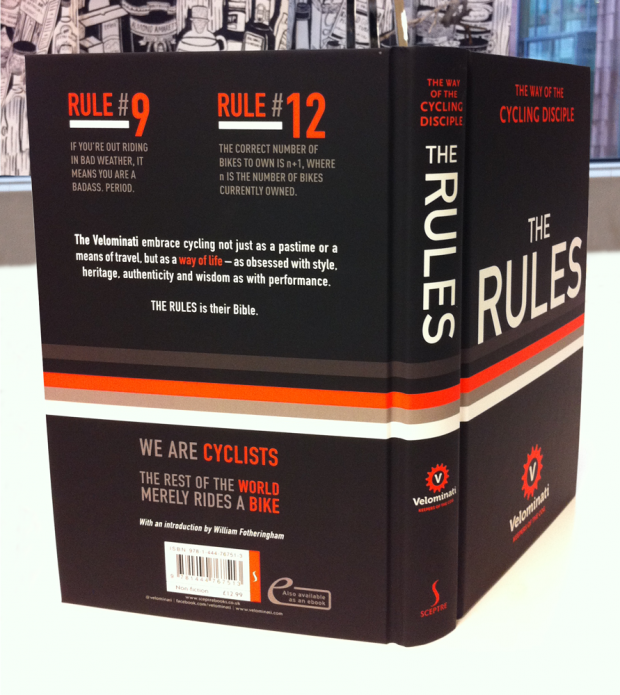 Every once in a while, you stumble across a quote that changes your outlook on how you approach life. Of course, this requires that one does a good deal of "reading", which is a problem for me, as reading anything that isn't Cycling-related feels the same as doing "work". I do the odd bit of it nevertheless, and in a recent such episode, I encountered a quote by Tommy Edison, inventer of several handy contraptions, including the lightbulb and motion picture:
Vision without execution is hallucination.
This brilliantly points out the fact that merely having an idea is nothing without the conversion of that idea into a tangible result. That, of course, is the elusive and difficult bit, but it is also the fun bit. Taking an idea from concept to reality is one of the most exciting and rewarding things a person can do.
It was about this time last year that James Spackman approached me via email and suggested we put a proposal together to do a book on The Rules. We loved the notion of this, and the Keepers set about putting a concept around this abstract notion, and a plan for how we might accomplish it. James provided feedback and guidance on how best to frame the concept, and led us through the proposal process. The proposal was approved, they made us an offer, we signed a contract, and turned around to stare down the business end of 70,000 unwritten words. Little by litte, we chipped away at it, and today, I am very happy to announce that the book has gone from concept to manuscript to editing to printing. What you see here are photographs of the actual book, printed and ready for sale on June 20, 2013. A free eBook Sampler with extracts from the book will be available free from June 6 to June 19. (Incidentally, the book will initially be published in the UK and Commonwealth countries; the US release of the book is expected in the Spring of 2014 through our US Publisher, WW Norton.)
The Rules stands apart from many blog-to-book concepts, where a book is little more than a re-publication of the blog's archives. It was important to us that if people are paying for a book, that they are getting something they haven't already read for free online. We also wanted to take advantage of the wonderful experience one has when reading a book; the sound and feel of a hard cover, the texture of quality paper, the creaking of the spine as you turn the pages, and the smell of the whole package.
The format of the book is very different from how The Rules are presented on Velominati. The book is organized into V sections, with each of The Rules aligned into one of them. The sections all have an introduction, and for every Rule, a passage has been written that either provides history or in some other way justifies the Rule, or provides an anecdote from our various lives as Velominati that might provide insight into why that particular Rule is in existence. The entire text is framed with a Prologue and Finale and topped off with an introduction by my personal Cycling Writer Hero, Will Fotheringham. With the exception of a paragraph here or there that was borrowed from our archives, the entire book is comprised of new material.
It gives us tremendous pleasure to see this project come to life as a real, tangible book. Special thanks to Sceptre Books for taking a chance on us. Words can't describe our appreciation of our editor, Drummond Moir, who was the most incredibly patient man and guided us expertly through the process of write a great book. (Sorry for having accused you of being English, mate.) Thanks to Nikki Barrow, our publicist in the UK; keep your ears on the papers, radio and television waves as the fruits of her labors come to light. Finally, thanks to the Community for making this such a fun place that someone might want to do a book in the first place, and for tolerating our dull writing on account of all our creative powers having been drained into the book. I also suppose this means that the V Keepers should start considering themselves writers or, worse, authors. Strange to say the least, especially since I have always considered myself a software developer.
Keep your eye on the Sceptre Facebook and Twitter for the latest, and everyone rush to your nearest bookseller on June 20 to pick up your copy.
Amazon:
The Rules: The Way of the Cycling Disciple
Obey the Rules: A Free Extract (eBook)
[dmalbum path="/velominati.com/content/Photo Galleries/[email protected]/Septre/"/]