Velominati Super Prestige: La Fleche Wallonne 2012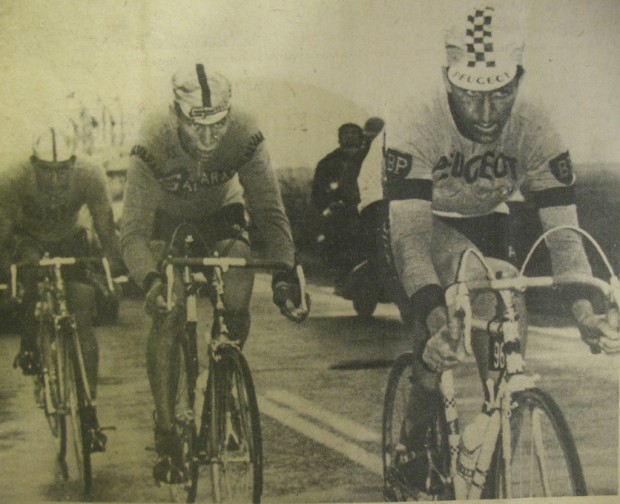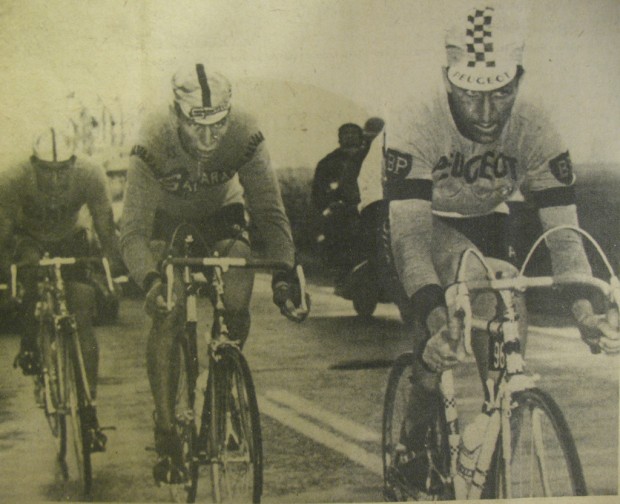 I just had to use this pic of Tom Simpson in 1965 wearing the Peugeot kit as the title pic for this year's VSP for La Fleche Wallonne. Rigid hooked himself up on the Keepers Tour with the same kit he purchased at the Flanders Cycling Museum and it's Grade A nipple lube. Although victory eluded Simpson in this Classic he still looked damn good in the kit and gave it the berries, taking third that year behind the two Italians on his wheel in the photo.
With that, the VSP returns to Belgium after a short and exciting few days in the hilly parts of Dutchland. We're not sure yet if Brett, Rigid, or Harminator will be drinking beer and harassing the fairer sex on the slopes of the Mur de Huy but the racing promises to be no less exciting, if almost totally unpredictable. There was a lot of talk about the Spaniards getting it right for Amstel Gold. Although they had two riders in the top 10, neither was able to reach the podium. Interestingly enough, PhilGil seems to have at least put the brakes on going Gilbackwards, Billions and Billions is still tantalizingly close to getting it perfect, and little Tommy V may be timing his peak just about right for either La Fleche or L-B-L this weekend.
So put that Dutch pisswater down and settle in with some more proper Belgian beer as Ardennes classics week continues with La Fleche Wallonne. We're steaming full speed ahead to the end of the Spring Classics in the VSP and there's only a couple chances left to slot your picks for your favorite rouleur or puncheur as from here on out the conversation will change largely to the G.C. men in the Grand Tours. Check out the start list and watch the timer, good luck!