Velominati Super Prestige: Fléche Wallonne Femmes 2012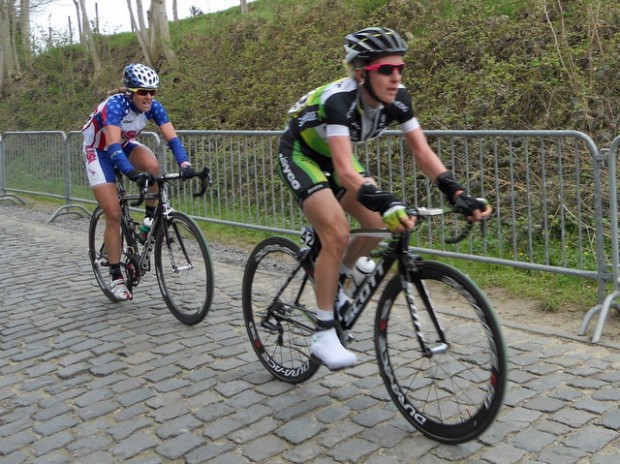 During the Ronde von Vlaanderen, we of the 2012 Keeper's Spring Classic Tour were right on the Oude Kwaremont climb as the women big-ringed it up the cobbles. Kristin Armstrong (US Women's Team) was burying herself to get on Judith Arndt's (Greenedge) wheel. It looked like the winning break was going right in front of our eyes. Seeing professional cyclists in action is always a humbling experience and seeing these women was no exception. Damn, these women looked great: fit, strong, awesome and crushing the Oude Kwaremont in the Ronde. They must have been jazzed too, anyone who gets to race these fabled climbs must get a buzz storming up, urged on by the massive throng of beer infused Belgian fans.
They will be doing it again on the Mur de Huy on Wednesday. Will they be as psyched to crush that climb? Perhaps the winner will but everyone else might find it a bit too steep the second time around. This year's course is 123km, 13.5km longer than last year's with two ascents of the Mur de Huy. Marianne Vos (Rabobank) was sick for the Ronde but she is the heavy favorite having won Fléche Wallonne Femmes only the last four times. Stay on her wheel until the final 30 meters and pop by for the win. How hard can that be? Bloody impossible judging from her previous record yet betting against Armstrong, Arndt or Pooley seems foolhardy.
It's cheating to look at Cyclop's picks. He obviously sold his soul to the devil, that might be cheating, I'm not sure. The betting office window closes early Wednesday morning so do your worst. Here is the start list.