Velominati Super Prestige: Giro d'Italia 2014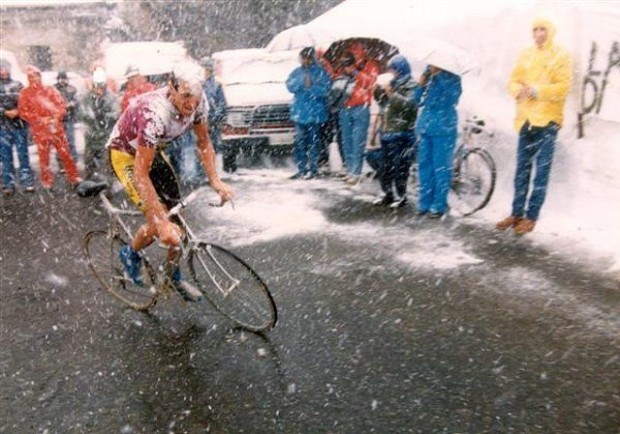 For the simple reason that the Cobbled and Ardennes Classics are behind us, I have not alternative but to get back on my soap box about the Giro being the best of the three Grand Tours. Well, usually, at least. Last year's race sucked the big one (even if it was supremely Rule #9), but for the most part it is the race that is the most closely contested of the three. There are mountains everywhere Italy meaning there are less bunch sprints, the weather is completely unreliable, and the slightly lower calibre of rider seems hungrier. Or maybe the reduced pressure means riders aren't quite as stressed out and are able to funnel that extra energy into the race.
My favorite Giro is a hard one to pick out, but its either the 1988 Giro when Andy Hampsten took the win after freezing himself stiff with Erik Breukink on the Gavia or when Pantani took his in 1998. I've been watching the '98 Giro during my morning turbo sessions and Merckx-oh-me, that was an All-Drugs Olympics nail-biter. '98 is also an interesting contrast to '88; in just a decade, the technology had changed so much but more than that, the doping atmosphere in the sport transformed completely. From Hampsten's Giro, EPO went from just being dabbled with on the fringes to being abused by leaders and domestiques alike by the time Pantani won. Hampsten wrote a nice piece about racing against dopers in Tyler Hamilton's book, The Secret Race. He described the various side-effects that the popular drugs of his era had, such as bloating and a tendency to make the user over-estimate their abilities. Amphetamine made the riders do stupid things, cortisone made them retain water, and steroids made them heavy; a clean rider could use those factors to their advantage. A far cry from the rocket fuel that allowed humble domestiques to big ring up major alpine passes.
Why am I talking about drugs? There's a race starting in a few days, people! This is our first Grand Tour, and the picks are worth more points, not to mention that strategy starts to play into things with the chance to swap your picks out on either of the rest days – at a certain point penalty. Remember that points are not accumulated; the standings on the last day of the race are what kinds, so keep the long game in mind.
Any points you win count towards the overall prizes plus the winner of this event also gets to post for the rest of the year in the pink jersey badge. So check the start list, review the VSP Grand Tour Scoring Guidelines and get your picks in by the time the countdown clock goes to zero at midnight PDT on Friday, May 9th. If you think we mapped one of your picks wrong, use the dispute system and we'll review it. Also remember to be precise enough in your description so we know which rider you mean; in other words, if you enter "Martin", we will use our discretion (read: wild guess) to decide if you mean Tony or Dan – and that choice will not be negotiable once the the countdown clock goes to zero. There has also been a recent scourge of people putting a rider in more than one place. Two words: Piti Principle, people! Don't make me do a bunch of extra programming to keep you from being allowed to submit such an obviously unsportsmanlike set of picks. We will mercilessly clear out all your entries should we find you have attempted this.
Also don't forget we've got three major prizes for the season-long VSP:
First place overall wins a Veloforma Strada iR Velominati Edition frame in addition to the customary VSP winner's VVorkshop Apron
Second place overall wins a set of hand built CR Wheelworks Arenberg wheelset in a custom Velominati paint scheme laced to orange Chris King hubs. (CR Wheelworks is Café Roubaix's new wheel goods brand.)
Third place overall wins a full Velominati V-Kit with accompanying custom orange Bont Vaypor+ road shoes.
Good luck, have fun with it, and don't lose your Rule #43 spirit.
[vsp_results id="29781″/]