RIP: Jim Oberstar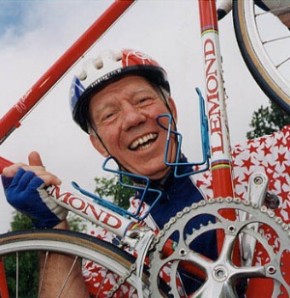 This week we mourn the loss of a true Velominatus, Jim Oberstar. The vast majority of you will have never heard of Jim but if you ride a bike in the US you have him, in large part, to thank for the infrastructure you ride. Jim died this weekend, unexpectedly, at a spry 79.
Mr. Oberstar served a nearly 40-year tenure in the US House of Representatives from Minnesota's 8th district, my home. His contributions and legacy to Minnesota are hard to understate. Without going into detail about his political career it's worth noting his commitment and action to cycling. Jim unabashedly, vehemently, and systematically included bikeways into legislation he championed as head of the House Transportation and Infrastructure Committee. He led from the front on this issue. To him, bike paths, cycleways, and lanes were not included into transportation plans as an afterthought or only if the political desire was there. Jim planned roads, rails, and busses around bikes. He believed we needed to move transportation from a "hydro-carbon based system to a carbohydrate-based system." I'm proud to say I voted for Jim on numerous occasions and had the pleasure of riding with him one time at a charity event.
What strikes me lately is all the conversation, links to news stories, and heated debates we are all embroiled in concerning cycling and sharing the road. The recent uptick in cycling globally has meant that there are more conflicts and sadly more serious and fatal accidents on the road. On the weekly, we see stories from Australia, to North America, to the old world about this tension and these tragedies. We also see a global obesity epidemic. Fat people raising fat kids developing Type II diabetes at 12 cannot be ignored. People like Jim Oberstar saw this coming and did something about it.
We all contribute in our own way to a better place as we walk the path. The mere act of kiting up and going for a ride makes cycling more visible and may inspire someone to dust off their whip and check out the local trail. Taking a Pedalwan on and acting as a Sensei may have a multiplier effect. Teaching a local kid how to fix a flat may lead to a lifetime of riding. People like Jim Oberstar, especially at the time of his passing, remind us how riding a bike can be more than looking fantastic and having a blast while we take the piss out of ourselves.