Velominati Super Prestige: Le Tour de France, Stage 18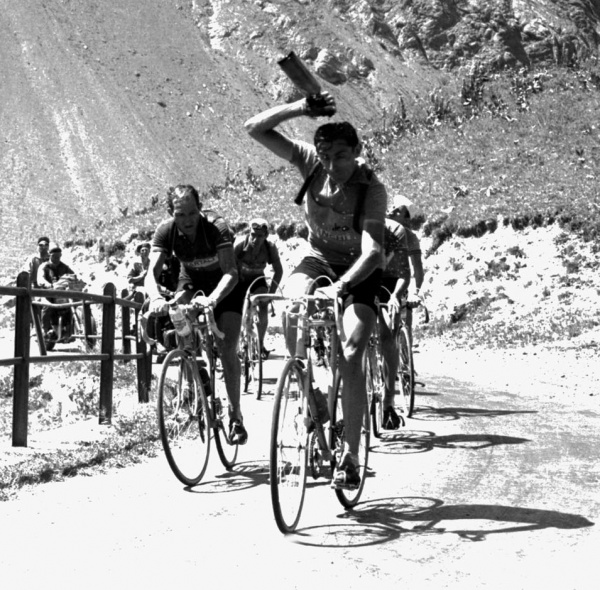 More than two of the three weeks of this Tour lie in the rearview mirror and the race is impossible to call; nearly every GC Contender has shown some kind of weakness or given something away that makes them look beatable. Contador was dropped on the first uphill finish. The Schlecks have been on the attack but have been unable to make the gains they need to insure a final victory. They've also reminded us that what goes up doesn't always come down as easily. Evans has been the most consistent and oportunistic, but has been racing hard since day one and, while he's been close, he's done little to stamp his authority on the race. Voekler has been defying the odds for nine days and continues to hang on to a lead which looks more tenable with each passing day.
So far, the "minor" mountain stages – those without uphill finishes – have proven to be as decisive as those with uphill finishes.  Normally reserved for the opportunist breakaway and a non-issue for the GC riders, Stage 17's rain-slicked descent saw some of the best racing we've seen this year buddied up with the biggest impact on the GC since Tommy V took the Maillot Jaune.
Indeed, this year has everyone sitting around the table, questioning the accepted tactics of the recent past. The riders who go fast uphill will need to do something more than just attack a few k's from the finish. Perhaps they are considering an Hinaultesque attack on a descent before the finishing climb. Or perhaps a Merckxian attack on the first pass, going long to take a huge advantage.
One thing is for certain: the rider who wins this Tour will not necessarily be the strongest one, for we've seen they are all closely matched. No, the winner will be the one who decides the old rulebook is better suited for toilet paper than a race manual. The winner will be the one who thinks creatively, leaves caution in the parking lot where Voekler punched his ticket today, and takes an extra dose of Rule #5 (I'm looking at you, Andy).
At this point, whomever rolls into Paris with the Yellow jersey on their shoulders will get the nod of approval from this guy. (Except Contador, obvs.) Vive le Tour, bitches.
Get your picks in by 5am Pacific tomorrow morning for the chance to win 3, 2, or 1 points for the podium spots, and 1 point for 4th and 5th places.  Good luck.