Velominati Super Prestige: Men's and Women's World Elite Road Race Championships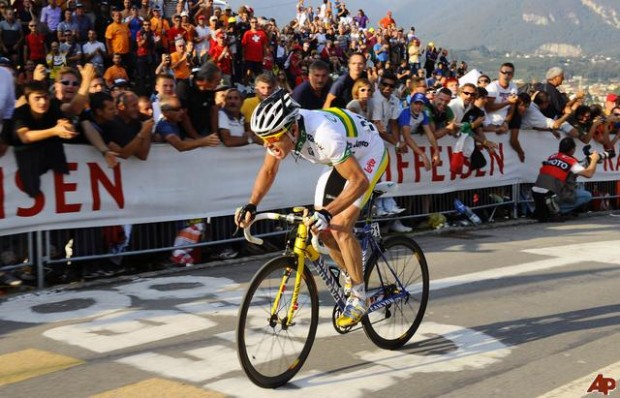 Just add water.  It's true of dehydrated food and it's true of a dehydrated sport approaching the end of the season. It seems adding a dose of rain improves any race, but none so more than the World Road Race championships. That is, so long as you ignore Paris-Roubaix and de Ronde van Vlaanderen. In any case, I'm hoping for rain in Melbourne on on Saturday and Sunday.
The cycling world's eye is turned sharply towards Australia as the World Championships unfold. It seems to me the competitors are facing some unique challenges in this years event, given it's location and route. Conventional knowledge is that the course is not hard enough and will favor the sprinters. I am convinced this is not the case, despite the considerable setbacks of not having studied the course nor having been to Australia. I'll also mention that I'm unwilling to do any "research" to validate my assumptions, but they sound good and a good-sounding guess is almost the same as a fact.
I'm not about to underestimate the disorienting effect of riding upside down.  Aussies and Kiwis will be used to it, but all that blood rushing to your head when you're in Oz will do nothing to toughen up your guns.  Riders who already have a big head, like 'Cav, will be at risk of having their noggin's rupture under the pressure.  I just hope they've been acclimating by sleeping upside down.
It's also Springtime in Oz, so the Euros who already raced a Spring campaign will suffer the unpredictable side-effects of experiencing the same season twice, similar to what happens when you travel back in time and share a brewskie with your past self.
Finally, most Europeans are used to having dogs and the like shoot into the road and know how to handle it.  It's usually no big deal because European dogs are generally small and fluffy and can be run over pretty easily with only a bit of fur getting stuck in the drive-train. However, I have it on the excellent authority of someone who's credibility I can't verify that kangaroos are fucking everywhere down there, and everyone already knows all Aussies carry Bowie knives. I can only speculate as to the sequence of events caused by having a marsupial hop into the rider's path during the race.  I'm guessing those Bowie knives will likely come in handy.
Bear these insights in mind as you enter your picks for the inaugural Velominati Super Prestige World Road Race Championship edition.  This one is a little bit different from before; we'll be doing a concurrent event for both the Men's and Women's Elite Road Race.  Enter your picks for both races by the time the Women's race starts on Saturday.  After the start, substitutions for the Mens race will only be allowed for pre-race DNS's.    Regular 1-day race points apply for both races, 5 for first, 4 for second, 3, for third, 2 for fourth, and 1 for 5th.  A bonus point will also be awarded for any pick in the top five, regardless of placing.
Bonus Points:
We will be offering a 5 point bonus to the contestant who correctly picks both winners.
We will also be awarding bonus points to anyone who identifies egregious Rule Violations before, during, and immediately after the races.  Entries should be posted here as you see them; supplemental evidence given through photos posted or specific times in the races (km's from the finish) will be given extra consideration.  Violations are worth 1 bonus point each, at the panel's discretion.