Six Days Of The Worlds – Burying The Curse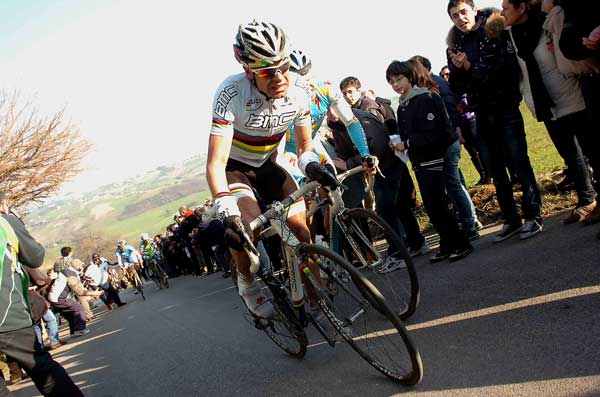 It's a widely held belief in the pro road racing ranks that winning the World Championships can have an adverse affect on the rider's following season;  The Curse of The Rainbow Jersey. And while there may be some merit to it (see Simpson, Roche, Dhaenens, Leblanc, Brochard, Astarloa, Ballan et al), it's usually more a case of the rider just not winning as many races as they would like, or expected by the fans and critics alike.  In recent times, the one rider to do more to honour the bands than any other is Cadel Evans.
From the moment he made his race-winning attack on the final climb in Mendrosio one year ago, Cadel has ridden like a man possessed, not by a curse, but more a blessing.  It was like he was saying to his many detractors "See these bands, they give me power. Eat your words, eat my dust."  No sooner had he donned the sacred garment than he was putting in incredible, attacking rides in support of his then-teammate Phillipe Gilbert, helping him to take emphatic victories at Paris Tours and Giro de Lombardia.  Already the curse was being lifted. But it would be 2010 that would see him dig a grave and put the myth six feet under.
In a somewhat ballsy move in itself, Evans left the ProTour-licensed Lotto team and moved the the Continental registered BMC Racing team.  Not being guaranteed a spot on the Tour de France seemed to matter little to Cadel, and in fact may have even spurred him on to prove that he and the team deserved to be there on merit through letting the results do the talking.  Right from the word go at the Tour Down Under he was on the attack.
His early season form was nothing short of outstanding, taking a big win at La Fleche Wallone, 4th at Liege-Bastogne-Liege and wearing the Maglia Rosa at the Giro, where he also won the Points and Azzuria jerseys before finishing 5th on GC.  Coming into the Tour on good form and with high hopes, he showed he wasn't going to sit back and wait for the race to come to him, smashing across the cobbles on the epic Stage 3, and taking the Maillot Jaune on Stage 9, despite a fractured elbow suffered in a crash early in the stage.  Unfortunately, this would see him lose big time over the next few stages, but in his newfound hardman persona, he gritted his teeth and finished in Paris, disappointed but by no means shamed.
In a year when many expected Cadel to crumble under the weight of the jersey, he rose above to gain a respect that had been unforthcoming for so long but is fully deserved.  He applied ample helpings of Rule #5, conformed admirably with Rule #15, earned himself a coveted place in The Lexicon, inhaled many a wasp, and didn't  go overboard on the stripes on his bike and kit.  Going into Sunday's race as a favourite, I for one would love to see Cadel repeat as World Champ in front of his hometown crowd, and spend another year in the jersey that he has made his in 2010.
Chapeau Cadelephant.  Or as we say in Australia, you bloody little bewdy!
[dmalbum path="/velominati.com/content/Photo Galleries/[email protected]/Cadel/"/]