Six Days Of The Worlds – Evanescent Riders of the 90s: Oscar Camenzind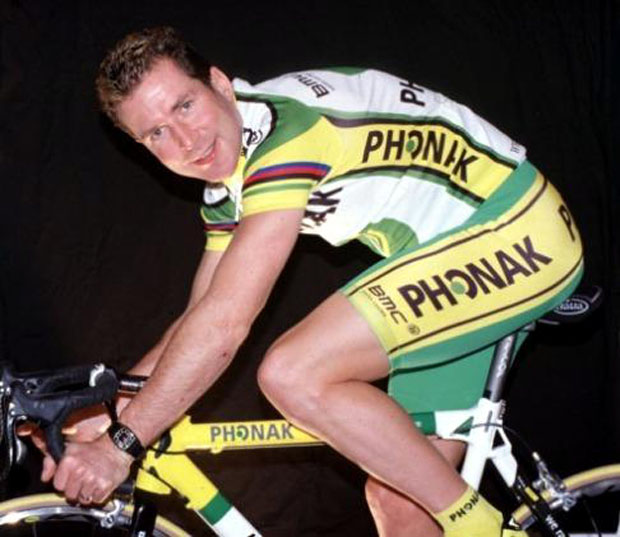 The Swiss surely are making a name for themselves in the Worlds, especially these days with Spartacus taking his fourth TT title. Of course we're all waiting for the marquee event of the men's road race but I'm sure Switzerland is proud to house the TT gold medal as well. The small, beautiful, and neutral country is at the top of the list of the countries who've taken home the most medals from the world road race championships. That is if you remove the national juggernauts of Belgium, Italy, France, Spain and The Netherlands. So with that said, let's just put Switzerland at the top of the "also ran" countries list. Well okay, so they're tied with the Germans but Emil Kijewski rode under the Nazi flag so maybe we shouldn't really count that one as the Nazis were douchebags and deserve no recognition.
One of the Swiss riders to contribute to their humble pile of medals and national pride was Oscar Camenzind. Oscar took the gold home from Valkenburg in 1998 after a successful solo break from a few kilometers out. Armstrong and Bartoli were in the chase as was Michael Boogerd who suffered a podium-bid ending puncture.
[youtube]http://www.youtube.com/watch?v=Dd4Ti3kQbds[/youtube]
A week or so later, Oscar won Lombardy in good form. Later in his career, Camenzind went on to replicate his Worlds success during the Tour de Suisse in 2000 and L-B-L in 2001, riding in both races for Lampre-Daikin. Perhaps his doping program was perfected then and allowed him to win undetected. But everything unraveled for Oscar in 2004 during his stint with Swiss team and dope squad, Phonak. Momma always said; "if you hang around snakes, sooner or later you're gonna get bit." With the likes of Tyler slithering around the peloton on his team Oscar got bitten in 2004. Seems the snakes in the peloton inject their own form of venom known as EPO.
We have to hand it to Oscar though. He actually admitted his guilt saying; "I made the stupidest of mistakes." Yes you did Oscar. But what would have been stupider is wasting everyone's time denying your guilt.
Oscar's career as a racer was over. Unlike other cyclists who've admitted to their affairs with the needle and have gone on to success as "clean" riders, Oscar's career never rebounded. C'est la Vie old boy.