Velominati Super Prestige: Paris-Roubaix 2012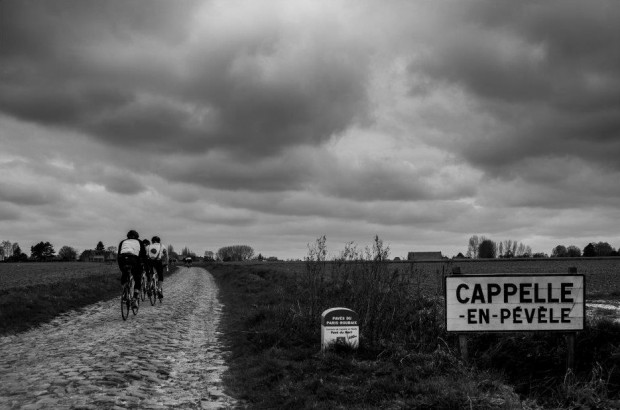 We rode the Pavé of Roubaix in the dry, and any comforting feelings we might have been carrying about with us that suggested we had somehow prepared for them were summarily vaporized as we hit the first secteur. Riding together in a group, unable to reach for the brakes or the shifters, we all were hit with the same realization: these aren't like the stones we have at home. Not if you live anywhere other than along the cobbled roads of Northern France. Not if you live in England. Not if you live in the Netherlands. Not even if you live in Belgium. And we won't even talk about the rest of the world.
The Trouée of Arenberg is a sacred place. Arriving there, you feel the need to pray out of respect. Riding there, you feel the need to pray out of a sense of self preservation. There is no smooth path through these particularly rough cobbles. That was in the dry; if the race is wet as predicted by the weathermen (whom I assume are as bad at being right as they are in the States), then there isn't a bag big enough to hold all the prayers the riders are going to need to get through these. And the Trouée is not the hardest or roughest secteur, by a considerable margin; that honor goes to Mons-en-Pévéle or Carrfoure de l'Arbre.
Keep an eye on the weather report as the race comes nearer, as wet roads will turn this race into one of attrition. Cancellara has broken his collarbone; Boonen, Pozzato, and Ballan are on form. But this is a long race, and details such as those matter little when a race contains over fifty kilometers of cobbles. Is it another year for the breakaway, or will the favorites close it down as they approach the finale? I don't know, but watch the countdown timer and get your picks in by Sunday morning at 5am Pacific. Winner of this VSP event will earn the right to comment all year with the pavé commenting badge. We will also forgo the usual Symbol Pack prize awarded to a Monument and award the winner a copy of the local newspaper the day after the race.
Bon chance.