Velominati Super Prestige: Paris Tours 2012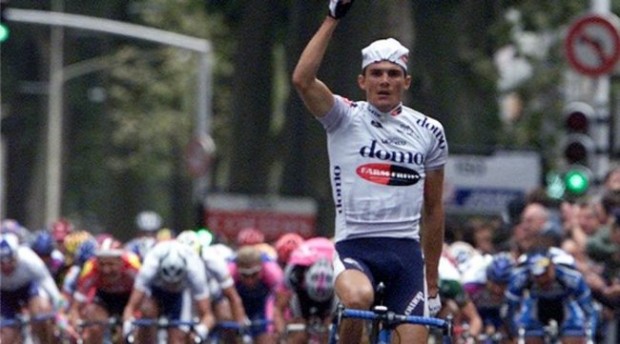 The final race of the 2012 Velominati Super Prestige season is upon us. It's not the most inspiring race, supposedly a race for the sprinters. The long straight final run in to the finish line begs for a mass sprint. It should be called Châteauneuf-en-Thymerais-Tours. The route is 235.5 km of small rollers through the French countryside. There is not a categorized climb on it.
Captain Fuck Around is eleven points behind @san tonio. If the captain stops fucking around like he did with last week's Lombardia winning pick @g'phant could be mincing around Wellington in a different apron from the one he usually wears. @xyxax, a few points behind el captaine, is swirling his hands over his crystal ball in his Gotham lair, his flying monkeys grinning and hopping with excitement over his shoulder. @ san tonio is standing tall, a few decent choices and he will win this whole thing but this is a tough race to call. It's October, who has any gas in the tank? This could be a true sprint finish with remnants of lead out trains, or won from a small break or something freakish like a climber holding off the whole chasing peloton.
Did France's ex-golden boy get off the EPO after the Festina affair? Did he win Paris-Tours by holding off the whole field on a day-long break with Jackie Durand riding on bread and water? For me it was easily his greatest win. It was much better than all his king of the mountain wins with their self-righteous finish line salutes to his own cheating ass. He was a climber, he was supposed to win mountain stages. But to end up being the lone fox chased by the whole pack, holding them off and winning this so called sprinters race, it was beautiful, Voight-esque. It's how a race should be won. This win actually made me like him again, a little bit. Sprinters get enough wins already. They are over-rated.
Here is a provisional start list, good luck and good picking, no Delgados, please.
Below is a barely adequate video of the 2001 race and Virenque's win, all in French and too many shots of him in his sweater. But it is short.
[youtube]http://www.youtube.com/watch?v=P8QjoLylT1M&playnext=1&list=PL0582720E507C62A8&feature=results_main[/youtube]