Velominati Super Prestige: Ronde van Vlaanderen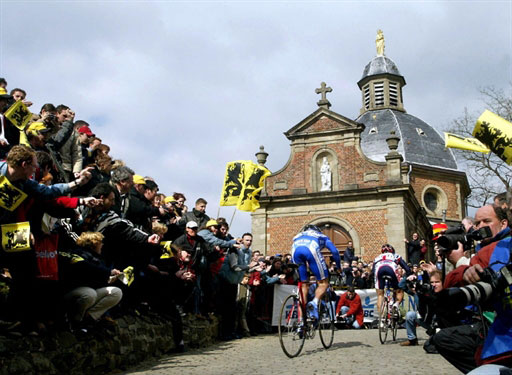 Ok, ok, settle down now people. Take your seats please. You're all a little bit on edge, like some cycling Gamblers Anonymous group that's been let out for the weekend with a pocket full of bills and the name of the nearest bookie. But in your excitement, you managed to crash our server, delaying the fix you so desperately crave.
But wait no more. You've warmed up on the gateway races, now it's time for the hard stuff, as grimy, rough and unadulterated as the roads of Flanders themselves.
You see, there's this bloke I know who knows a bloke, hangs around the Velominati bike sheds, seems to know a bit about the racing game. Reckons he's got a sure bet for the weekend. A cert. A dead-set shoo-in. Number 1 in Race 3 of the VSP at Flanders. Fella reckons you could put your left one on it.  Absolutely Faboolous or something he's called. He's got form (and, judging by the way he shelled the nags on last week's card, possibly a motor). But word is there could be a late plunge on the other fella, Boom Boom Boy, so maybe a bob each way might be the way to go. I'd watch out for those not-so-roughies though, the likes of Gilbert, Devolder, Ballan and Thor will be waiting to pick up any leftover chaff and could steal away the win, leaving you as frustrated as a one-legged man at an ass-kicking contest.
So what's it gonna be then? Take the sure thing, or the other sure thing, or throw a dart at the board and hope it sticks? It's time to study the form guide, search the dark recesses of your soul, throw out any logic, and pencil in your picks on the ticket provided at the bottom of the comments. Whether you're canny, savvy or just plain tinny, the coveted Obey The Rules bumper sticker is waiting. Is your bumper worthy?
The only thing for certain is that bicycle racing will be the winner on the day.