Ever-Prescent V: Ronde van "V"laanderen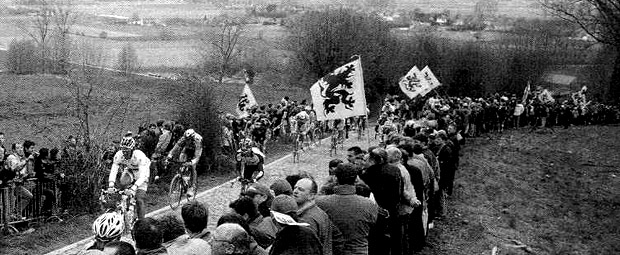 There is something about Northern Europe in general and Flanders in particular that exudes The V; you feel it in the air the moment you set foot into the region. Such terrible things have happened here for so long that living with hardship and suffering has not only become part of the culture of the region, but being tough has become a principle characteristic of the people who live there. To paraphrase Johnny Green's words, the things that have happened here are like a torn curtain – it just kinda hangs there.
Roubaix may be the Queen of the Classics, but for me, the greatest one-day classic of the year is the Tour of Flanders. Cobblestones are one thing, cobblestones combined with mud and racing another, but cobblestones, mud, and 20% gradients are a different matter altogether. The Americanized name of the race obfuscates an important point: in Flemish, "Flanders" starts with the V – Vlaanderen. Coincidence? Perhaps, but it has a beautiful symmetry to it, and that's good enough for me.
This race, more than any other on the calendar, represents the people who host it. The stones, the climbs, the weather, it almost seems as though the very spirits of those who have perished in these fields been drawn into the route. In their honor, I will be hosting a cobbled hill ride in Seattle on Sunday, April 3. For those of you who live in the area – and those of you close or crazy enough to make the last-minute trip into town, I will be leaving the parking lot of Speedy Reedy in Fremont at 10am sharp to embark on an honorary ride over the hills and cobbles of Queen Anne and surrounding areas (as well as several uncobbled climbs).  Nothing compared to the challenge of de Ronde itself, but beggars can't be choosers.  This will be as easy a ride as possible, given the terrain we aim to cover and given my poor level of conditioning.  Also be aware that I haven't done the recon into the route that I should have, so there may be some route-finding involved.
Rain or shine, obviously. Kinda hoping for rain, actually.