Guest Article: 24 hours of The V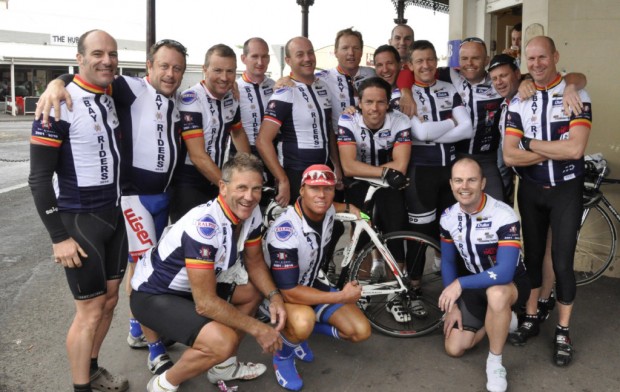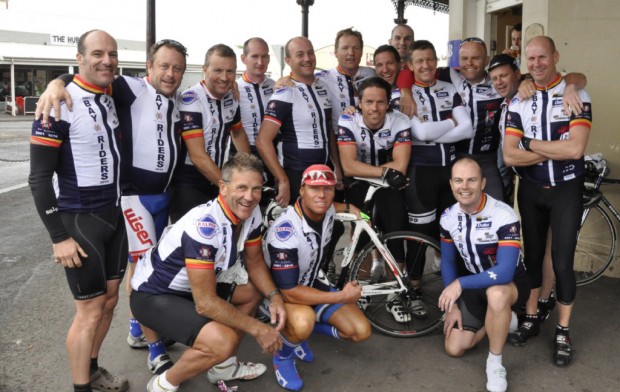 Most 24 hour bike rides consist of teams of riders who trade off shifts and ride, as a group, for 24 hours. As far as 24 hour competitions go, that's the smart way to handle it. It seems kind of weak, though, doesn't it? Why bother with getting off the bike every few hours?  Sounds complicated and like it might be a waste of energy, all that swinging of the leg over a top tube. Why not cut out the middleman and just keep pedaling. Its what Jens would do, it's what Woody would do.
So, while we're out doing our honorary V-Rides this weekend and next in the Name of The Classics, take solace in the fact that Marcus is in all likelihood much, much dumber than you are. But he also happens to be channeling much more of The V. Here we have his opening account of the 24 Hours of The V, and next week we'll publish his account of their collective failure or success.
Yours in cycling,
Frank
—
Greetings Velominati.
I thought I should let you know about a Little Ride that I am doing with 14 mates on the weekend. This Saturday we are heading out to ride across the state of Victoria. This ride is known as the "Woody's Murray to Moyne Bike Ride".
The distance? 527 kilometres.
The time? 24 hours.
Whilst it is usually ridden as a relay, we are each going to ride the whole thing. We did this ride last year and it involved us spending around 17 of those 24 hours attached to our bikes.
Who was Woody? A Rule #5 Velominatus of the highest order, that's who. Graham Woodrup was a man who handed out so much V in his life that the factory ran out and he had to move onto Ws instead. He specialised in doing marathon fundraising bike rides. His biggest record was cycling 4,380 km from Perth to Sydney in 10 days, 17 hours and 56 minutes in 1988! That is over 400kms a day, most of the time across a fucking big desert. Imagine riding LA to New York (plus an extra 500kms) if every state other than California and New York was desert.
Tragically Woody was killed in a training accident in 1992. In his honor, Woody's Murray to Moyne has continued on. This will be my 10th Murray to Moyne, but only my second time doing the whole thing (its actually against the rules to do the whole thing these days so don't tell anyone ok?).
Why are we doing this?
1. Because it gets us out of the house for a whole weekend.
2. To raise money for a few charities, "my one" being Learning for Life, that provides intensive therapy for kids with autism.
My riding group has raised over $1 million for various charities in the last 10 years, so we think we are very virtuous too – and it makes up for a multitude of sins for the rest of the year.
So that gets the reason for the ride out of the way. What about the ride itself?
It is pretty flat on very dead roads. For the most part it goes through the middle of nowhere. Apologies to our central and northern Victorian readers (are there any?) but you can't argue with names like Boort, Mitiamo, Durham Ox, Pyramid Hill, Lake Marmal, Coonooer Bridge, Moyston and Warrayure, to name a few.
In fact, the ride becomes easier once night falls because the terrain moves from flat to rolling and you get to stop looking at dead boring flat farmland.
Our weekend starts in Melbourne at midday Friday. We load up buses and start for Echuca, close to 4 hours away. However our drive takes us a bit longer than that as we have a mandatory stop at a pub in a town called Heathcote – which produces excellent Shiraz by the way. Crucial carb loading in the form of a few beers (we call them pots) takes place here.
Once we get to Echuca, we head to dinner where ride kit is handed out and everyone plays the game of drinking a bit whilst trying to look like you are drinking a lot, in the hope that one of your team members gets a bit over-excited about being 300kms away from the wife and kids on a Friday night so decides to have a few too many pots.
It is ideal if one of your teammates is riding worse than you because we ride as a group at the pace of the slowest rider. Therefore if you are the "caboose" you are close to your limit and therefore you are taking a 24 hour visit to Painesville, population: you.
Saturday we wake, eat, and start riding at 10am. For the next 17 or so hours we will follow a pattern of
1. Two hours riding.
2. Stop for 5 minute "comfort break" and drink re-fill.
3. Two hours riding.
4. Stop for meal break, massage (we bring along a couple of female (& young) soigneurs) and gear change.
5. Repeat steps 1 to 4 three more times.
Sometime around 3am or after, we hit a town called Hamilton for the compulsory "overnight" stop. At this point we will have about 425kms under our belts. We will have one or two celebratory ales whilst floating in an indoor pool at the place we stay. Bed at around 4am.
5:30am – wake up, breakfast and back on the bikes by 6am to ride the last 100kms. Putting oneself back on one's bike at 6am is about the worst feeling I ever have on a bike.
Over this last morning stage, speed in the bunch gradually rises. Whilst we will have ridden together since the start, suddenly it is game on as we race to a little place called Kirkstall, – a thriving town consisting of exactly one pub.
The Race to the Kirkstall Pub is hotly contested – and the owner specially opens up for us. It will be a touch before 9am at this point and a few quick ales are downed quickly amid much backslapping for a job well done.
However it is not job done yet – for the ride is not over. Once we have all had a pot or three, we must re-mount our steeds for the 15 or so kilometres from Kirkstall to Port Fairy. Truth be told, this part of the ride isn't a great deal of fun. We must reach Port Fairy by 10am so we watch our Kirkstall consumption time very closely.
As soon as we hit Port Fairy, more backslapping and drinking – this time at the Star of the West – another pub.
Then we clean up and go for a lunch (more pots), followed by sleeping through a 4 hour bus ride home.
Monday – another lunch (with pots) in Melbourne to celebrate.
Last year we did the same ride and most riders managed to put on weight over a weekend that involved 527kms of riding. On this basis we concluded that we would all make excellent Grand Tour riders given our ability to absorb calories whilst exercising over long periods – just like Der Kaiser!
Oh, and if you wish to donate dollars (tax deductible in Australia), we would be forever grateful, please visit http://www.everydayhero.com.au/team_toro
If you are interested enough (BTW, take a long hard look at yourself if you are), we will be tweeting updates from @marcusocall and @m2m500.
Full report sometime next week.