Velominati Super Prestige: Tour de France 2014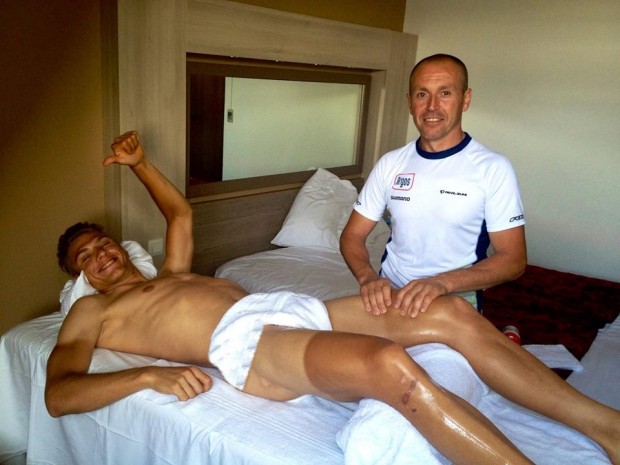 Attention all Velominati. The Tour VSP is going on line and it should be a good one. Sure, between Froomy and Bertie a person could hedge their bets but Moviestar is all in for Valverde, BMC for TeeJay, Astana for the Shark and Garmin is finally committing to a team leader in Talansky. Some other teams (ahem…Trek Factory Racing for one) have resigned themselves to hunting stage wins. The Tour swings through the Yorkshire Dales, everyone but the riders can enjoy some excellent ales. As the Tour continues to Lille, Norther France and Belgium, the quality pints continue. Yes, it's hot and the VSP generator has beer on its mind.
The route, the sprints, the climbing and even the final time trial should make this a decent Tour. Here is a start list. Everyone will have a vial in their jersey pocket, but don't worry, it's legal.
It is still not too late to win the overall 2014 VSP and we have made it worth your while.
First place overall wins a Veloforma Strada iR Velominati Edition frame in addition to the customary VSP winner's VVorkshop Apron
Second place overall wins a set of hand built CR Wheelworks Arenberg wheelset in a custom Velominati paint scheme laced to orange Chris King hubs. (CR Wheelworks is Café Roubaix's new wheel goods brand.)
Third place overall wins a full Velominati V-Kit with accompanying custom orange Bont Vaypor+ road shoes.
Refer to the VSP page for details concerning scoring and rest day swaps. If you want to call yourself Pedro Delgado, you will only have yourself to blame. The VSP banner on the homepage has the countdown clock, refresh your browser and don't be late. Good luck and good picking.
[vsp_results id="30275″/]