Velominati Super Prestige: Giro Rosa 2014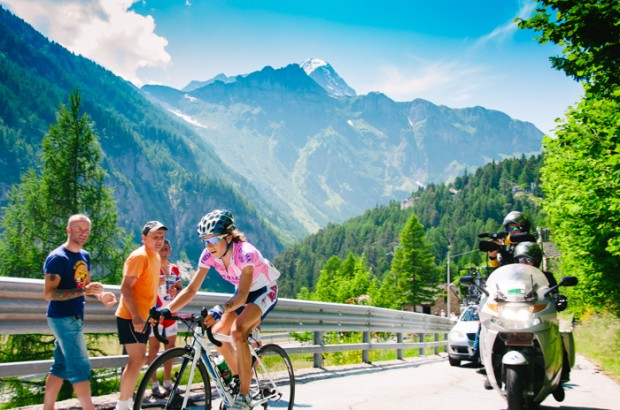 Why are women's races run concurrently with men's races? I would get it if it was the women's Tour de France, but I don't get it when it is the women's Giro in July. Since the Tour de Swiss there has been a lack of stage racing (in my TV watching schedule) and seemingly a perfect time to present a women's stage race. What do I know? Evidently, not enough, but it is here and we should appreciate it, if it is properly covered, which it won't be, because of the TOUR de FRANCE, FFS.
The 25th Giro Rosa  includes 953 km of racing from Caserta to Santuario Madonna del Ghisallo with starts around noon, every stage, how civilized. American Mara Abbott will be defending her 2013 victory. It was gained on her climbing ability, a skill Ms. Vos has but somehow could not match last year. To be racing in Italy in summer; everyone will be lining up their bikes for this stage race. I imagine the women will be enjoying La Dolce Vita more than the men of the Giro in May. My impression is the women race just as hard but have more fun throughout the days of a stage race.
Podium Café always has some good lead-in coverage for women's racing here. A provisional start list complete with rider's twitter and instagram accounts is here, the kids. As we all know, points scored for women's VSP races count equally for the overall 2014 prizes. Prizes you ask?
First place overall wins a Veloforma Strada iR Velominati Edition frame in addition to the customary VSP winner's VVorkshop Apron
Second place overall wins a set of hand built CR Wheelworks Arenberg wheelset in a custom Velominati paint scheme laced to orange Chris King hubs. (CR Wheelworks is Café Roubaix's new wheel goods brand.)
Third place overall wins a full Velominati V-Kit with accompanying custom orange Bont Vaypor+ road shoes.
To be clear on the Delgado issue, the time clock on the VSP banner is it, not the actual start in Italy. Refresh your browser to make sure you are still in pre-delgado status.
[vsp_results id="30249″/]