Velominati Super Prestige: Tour de Suisse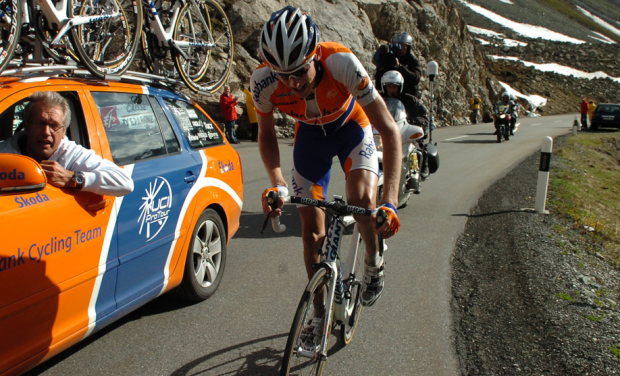 The Tour de Suisse is the last warm-up race prior to the Tour, and the last chance to test your form. As far as Tour rivalries go, we typically see one rival choose the Dauphiné and one la Suisse; it's unpleasant to ruffle your feathers too much with a pre-Tour head-to-head, you see.
While the Dauphiné has the benefit of previewing some of the Tour's stages in a race situation, the Tour de Suisse has the benefit of including the only thing more sinister than cobbled bergs: a cobbled mountain pass. This road also holds the distinction of being the only one where I feel more sympathy for the road layers than I do the riders.
Aside from rivals and masochism, the key factors determining which race to ride have to do with the timing of the peak: this race features a full week later in the calendar than does the Dauphiné, and based on the Tour's parcours and rhythm of the rider's season, this race may have better timing. But in any case, as with the Critérium, the effort is a dangerous gamble: ride too hard and you could fire off the Guns enter the Tour with little more than starter pistols. Balance, balance.
So, as the Dauphiné winds down, it's time to start thinking about Suisse, our last VSP before le Tour. Get your picks in by 5am Pacific on Saturday morning. Same drill as usual: Being a week-long stage race, the points on offer are 7 for first, 5 for second, 4 for third, 3 for fourth, 2 for fifth, with the usual allotment of bonus points for getting the rider right but the place wrong.  Also, there are no rest days, so no rest day swaps, but we will have our usual approach for riders who drop out. Piti Principle applies as always. Also review the guide, being careful to note that the rules have changed a bit this year, and we may not have completely updated the guide yet, so if there's a question, ask.
May Merckx be with you all.