Velominati Super Prestige: 2011 Women's Elite Worlds Road Race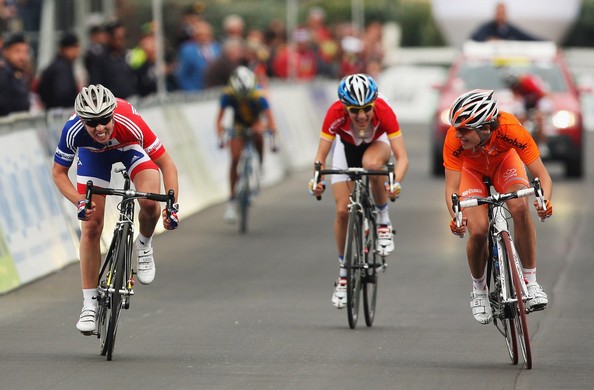 Google Image Search Marianne Vos and you will turn up a mountain of photos of her throwing her arms aloft in victory aboard every kind of bicycle you can imagine. Road racing, Cyclocross, Track; she's been World Champion in every discipline I can think of without trying very hard to think of every discipline. She's even been Dutch National Champion in Mountain Biking, although if you've ever been to the Netherlands, you might have noticed a paucity of mountains, so I'm not sure how significant that accomplishment is. I suppose, however, that this is a bit of a redundant discussion since she's Dutch, and that's already the same as saying she's Awesome.
In the other corner, we have Nicole Cooke; a woman who's palmeres on Wikipedia fills up three entire rows to Vos's measly two. She's been British National Road Race Champion so many times that for a number of years I had no idea what her team kit actually looked like. Her list of wins, while not as diverse as Voseseses in terms of disciplines, boasts wins in every road racing category: Time Trials, Road Races, Grand Tours as well as Classics, and Points and Mountains Classifications in stage races. She was the first woman to the top of le Mur de Huy so often that it took the rise of a certain Dutchwoman to break her seemingly unstoppable streak. As is customary, however, when you kick that much ass it's hard to keep your knees in order and as a consequence she's been sidelined repeatedly with chronic knee injuries. A pity, that; I bet she could have filled a fourth row had she been able to race uninterrupted.
But two favorites don't make for an exciting race, and thankfully the list of contenders for Saturday's Women's World Road Race Championships goes well beyond Vos and Cooke. A quick browse through the startlist shows Rochelle Gilmore riding for the Aussies, Judith Ardt spinning the cranks for Germany, Emma Pooley singing backup for Nicole, Giorgia Bronzini leading for Italy, and the great Kristin Armstrong returning from motherhood to lead the US team together with Amber Neben.
Mix all of them up on a course that's harder than people are giving it credit for, and you've got an unpredictable race in the works. Consult the Oracle and enter your picks; this edition of the Velominati Super Prestige will be followed closely by the Men's race on Sunday, so buckle up a for a great weekend of guessing and racing. As always, if you are inclined to enter, simply post your predictions for the top five placings in the form below. Make your picks by 5am Pacific Saturday morning, regular VSP Rules apply.  Good luck!