Velominati Super Prestige: Mens World Championship Road Race 2012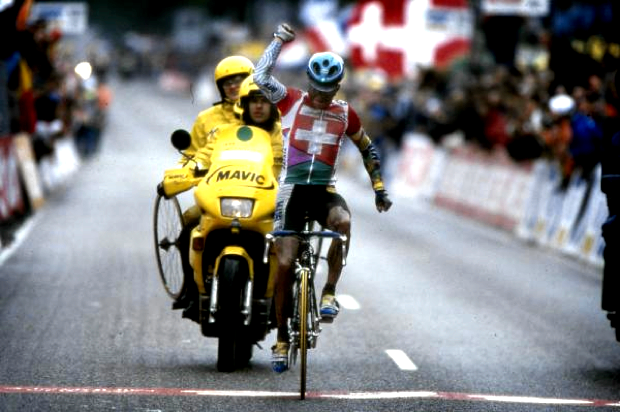 I'm quite upset about it, actually, all this racing that's been going on in perfectly good weather. Vlaanderen, dry. Roubaix, dry. We were nearly guaranteed shit weather with the Olympics in London, but even then, only the women got to get all Rule #9 on our asses – and only for one race. Damnit, I want Epic, and if we keep insisting on riders getting off the juice, all the Epic is going to have to come from other places like pouring rain and freezing cold.
Its a good thing, then, that Valkenburg was picked for the Worlds, because that almost guarantees bad weather. Last time it hosted the race the weather was complete crap. Its also just hilly enough that I think any of those sprinters who are pretending like they're going to finish at the front are huffing too much DuMonde Tech. Boonen might be able to hang with the leaders into the finish, but I'd hardly call him a sprinter anymore, now that it dawned on him that people get hurt and seasons ruined in those big bunch gallops.
My money's on good weather though, because the weather is forecast to be good here in Seattle and assuming it will be the same halfway around the world in Dutchland seems easier than looking up the local forecast.
You know the drill, picks close at 5am on Sunday in Pacific time, and if you can't figure out what that means, just put your picks in before the countdown timer goes to zero. Also note that the spam filter is feeling a bit peckish these days and has a tendency to gobble up people's VSP Picks; don't be alarmed, your picks are getting into the system nevertheless and The Keepers are monitoring the queue for posts to approve everyone to disagree with.
Good luck.