Anatomy of a Photo: Evanescent Riders of the 90s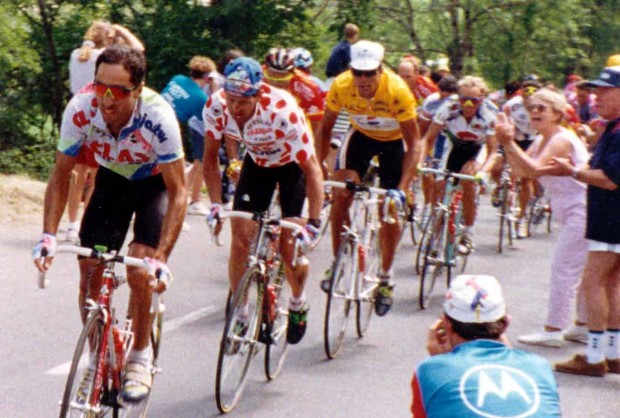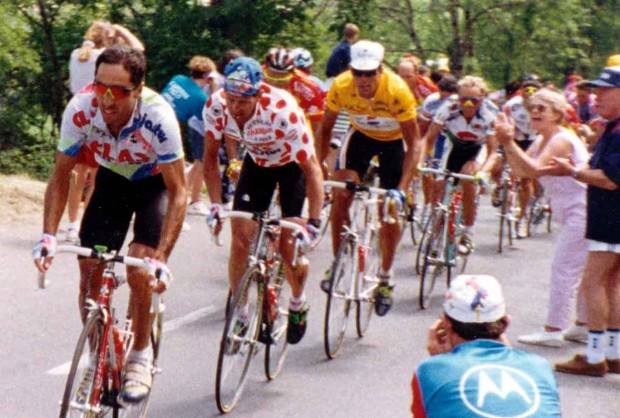 I can't decide if Tony Rominger was an Evanescent Rider or not. After all, his wins range from 1988 all the way to 1996, which technically means the word "evanescent" doesn't seem to fit. That said, after a successful streak in the Vuelta, he suddenly discovered a "cure" for his allergies which previously kept him from performing at the Tour de France in July. I can't help but notice that the most successful era of his career was in perfect alignment with the EPO sweet-spot of  the early to mid nineties.
I also can't decide if Rominger was cool or not. He rode one of my favorite bikes of all time – the twin-downtube Colnago Bitubo – and had an enviably Magnificent Stroke. At the same time, he was somehow a bit ungainly on the bike and was always had something amuck with how he looked; the jersey a bit too big, the sleeves on his dotty jumper cut too crooked, or his cycling cap too askew.
In any case, this photo has a nice composition of classically doped-up riders, flattening out the Pla d'Adet like only jet fuel can. I spy with my little eye the unmistakable nose piece on Zenon Jaskula's Briko Shots, and I think that might be Claudio Cappuccino hiding behind his right shoulder. Not sure who the bloke is in the red with the hairnet, but he looks familiar as does the gregario with Big Ring Leg on the front.
The most surprising bit of this photo is that it appears that Armstrong smoked them all and had time to come back down the mountain to snap a few pictures. Who ever said he couldn't climb pre-cancer?