Guest Article: V-Books of the Year – A Personal Choice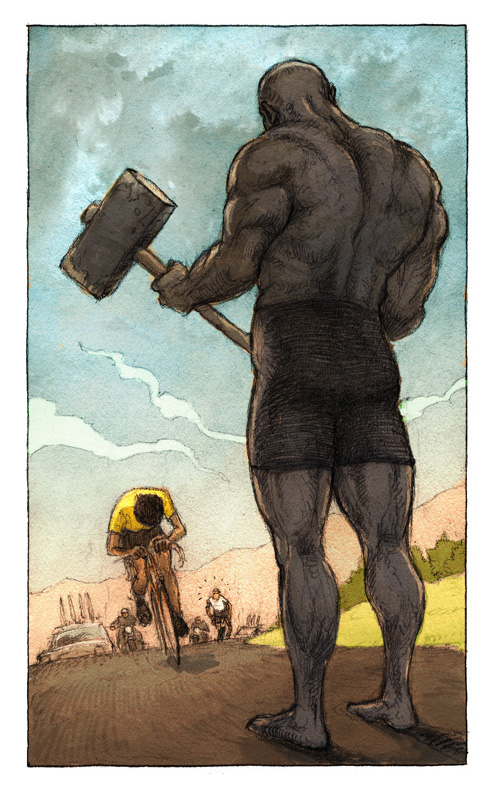 @Blackpooltower is obviously spending all his n+1 money on new cycling books, or he works in the little seen cycling-specific bookshop. Either way, he is nice enough to catch us all up on what is vvorthy. The lead image alone is enough, it's fantastic. It's worthy of its own article or, even better, a movie. 
It is not too late for hints dropped for the cyclist-who-has-everything's (impossible) holiday gifts. I want them all, hint, hint. And chapeau @Blackpooltower for thinking of us illiterate handlebar-tape chewing beasts. 
Your in Cycling, Gianni
The autobiography is a medium particularly well suited to the needs of the racing cyclist. What other platform affords such scope to settle scores, explain away failures, relive glories and bitch about bad luck at length and without danger of interruption?
In fact I've often wondered if one of the reasons sporting ghost-writers get paid so well is that, like beekeepers with stings, there's a threshold to the amount of self-justification one person can hear before they simply go mental. It's actually psychic danger money these guys are earning.
Cycling memoirs are a mixed bag at best, but we may as well get used to them: much as a wine enthusiast has to tolerate being given ever more superfluous corkscrews each Christmas, so a cycling fan will receive the latest biog of their country's top pro, like it or not.
What follows is a personal selection of the three best cycling books of the year. But first, a roundup of some of the rest:
The Climb by Chris Froome is worthy but unmemorable, except for the early years in Kenya, which are startlingly pythony (and no, I don't mean Pythonesque; he was really, really into pythons). At Speed is Mark Cavendish's latest. He's driven, he's demanding, he's a bit of a nightmare to live with … you know it already.
If the superstars' books feature a lot of abandonments, crashes and moments of not-winning, the domestiques' contain little else. So when you embark on the story of someone who has taken the cycling equivalent of the vows of the Black Watch and have all but renounced winning, for life … it can be a bit of a trudge, but a bracing and instructive one, if written well (see Domestique, Le Metier and Dog in a Hat).
Christophe Bassons didn't set out to be a domestique, but his bloody-minded and almost masochistic stand against doping made anything else impossible, as he relates in A Clean Break. If you've never understood why it's hard for a rider to resist doping, check out Bassons' life on the road and the schoolyard bullying he endured day after day. It's a worthy document of a heroic career, but you do find yourself muttering "Oh why can't you just … win something, Christophe?"
And if you really want to wallow in failure, Lanterne Rouge is a well-researched and witty view from the (very) back of the pack.
V-Books of the Year
Rule #10 Award: Legends of the Tour by Jan Cleijne
Who knew cycling and bandes dessines were a match made in heaven? Jan Cleijne, clearly. You only need to see one panel of this superb graphic work to understand why: Eddy Merckx and The Man With the Hammer. This book thrillingly celebrates the myths of cycling in (super-)heroic comic book style. I handed this to my ten year old son, saying "You want to know why I like cycling? …"
As a concentrated lesson in cycling never getting easier, just faster, and in Looking Fantastic through every era, this is hard to top.
Rule #9 Award: Gironimo! by Tim Moore
"My genitals have now come back to life – and in some style, if I may say so."
Don't be put off by the "quirky" cover, which seems to place this book in the contrivance-heavy genre of "oddball travel memoir". This is an exceptional and highly V-relevant book.
Even a straight history of the 1914 Giro – diabolical in its length and its conditions – would be worth reading. This book goes quite a bit further: Tim Moore builds a period bike – wooden rims, cork pads and all – then rides the fucker round the whole route, treating us to amusing tales of his own misfortunes and a parallel commentary of the '14 race. Moore is insightful, inspiring and very funny, whether dispensing hard-won road wisdom ("The touring cyclist's core skill: being asleep when it's raining") or offering up his own misfortunes for our entertainment ("I dismounted like a dalek at a rodeo"). A classic.
Rule #71 Award: Faster by Michael Hutchinson
Michael Hutchinson, or Doctor Hutch, will be known to many for his journalism and also The Hour – the outstanding set text for all followers of the resurgent hour record competition.
Faster is a gloriously nerdy survey of all the things cyclists do to get faster. Hutchinson examines them all in turn with the twin objectives of a) evaluating their effectiveness and b) taking the piss out of them when appropriate. And it is always appropriate.
In his overwhelming obsession with the minutiae of cycling and matching refusal to take it too seriously, Doctor Hutch is one of us. Just quite a bit faster (blame his lungs, whose output numbers are apparently "in horse territory").
When he's not laughing at pros with their beet-pink urine and their hatstand physiques, he can be very profound on the central truths of the sport.
 "Parts of an athlete's life are hard, yes. But having the chance to devote yourself to something that's both so extraordinary and so unnecessary means it's also rather wonderful."
Honourable mentions go to The Ride Journal and The Cycling Anthology, which have joined Rouleur as exceptional sources of contemporary cycling writing. The former is a non-profit and invites submissions from anyone. The latter is based in the established sports writing community but no less passionate for it, and always surprises and delights. Oh and I can't not mention Ned Boulting's 101 Damnations, for sheer charm.
Stop press: Bike Mechanic by Guy Andrews has just been delivered. It might be the best bike book ever.