Reverence: Lezyne Tyre Levers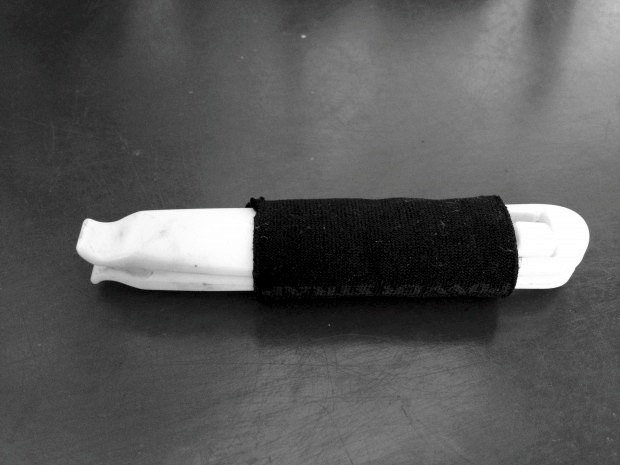 Two summers ago my wife and I had the pleasure of visiting friends in Switzerland. The country is so expensive that I took home only two souvenirs: white Assos socks and a pair of Lezyne tyre levers. I assumed Lezyne was a European company. It was in this Swiss bike shop and I'd never seen the brand in an American store, ever. "Ewwww, exotic Swiss tire levers, I can afford these." The levers were white "composite matrix" with a natty neoprene sleeve but really I bought them because I could fit them in my luggage and they were affordable ($4 US). Switzerland wisely (for them) never joined the EU but the Swiss franc makes buying swag painful. As a side note, the Assos socks are really well made. They look a tad less white now but have retained their essential Assos sock essence in every other respect.
Two years on and these levers have earned and kept the coveted number one position in my mobile rear pocket man-sachel. They are superior levers. Their hook design works better than levers made by Park, Pedros or King. I haven't tried the Mavics Bretto has revered. I don't know what the "composite matrix" is but it is strong as hell. Should it be so hard, designing an effective tyre lever? These are like medical instruments. Nurse, Lezyne tyre lever please. The thinness and specific curve of the bead hook makes these the levers used atop Mt Velomis.
Michelin tyres and Campagnolo rims (my favorite pairing) are at opposite ends of the clincher fit tolerances. They are wicked tight, harder to get off and on than the recently abandoned tubeless Hutchinsons. No other levers so easily get under the Michelin bead and take the horrible strain like these Lezynes do.
Sitting on the edge of the road in Kuala Lumpur, sweat pouring down your face as you bend to the task of switching inner-tubes, the sounds of snapping stalks from the jungle getting closer. Do you want the best tyre levers in your sweaty trembly hands? For you tubular riders, these might be excellent for husking that punctured tyre off the rim. At 26 grams, it would not be a bad bet. Hell, if you have to defend yourself against the enraged Malaysian monkey, a mini-pump in one hand and an unbreakable Lezyne medical instrument in the other might work out for you.
There, I've gone and done it. I've written an article singing the praises of a tyre lever and I can't stop spelling tyre with a "y". It's what we do here. We obsess.
Disclaimer: Velominati has a friendly relationship with Lezyne and we have received some very well designed and well executed products of theirs, as have Keepers Tour riders from the 2012 Belgian love-fest. As I stated at the begining of this post, I bought these tyre tools when I didn't know the first thing about the company. I admit that I was so impressed by their tyre levers I was inclined to try more of their products but my dirty Schleck love for these levers is not influenced by our relationship with Lezyne.