Reverence: Ritchey WCS 4 Axis stems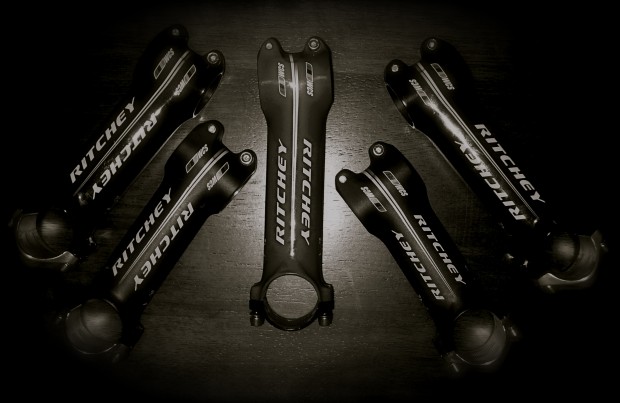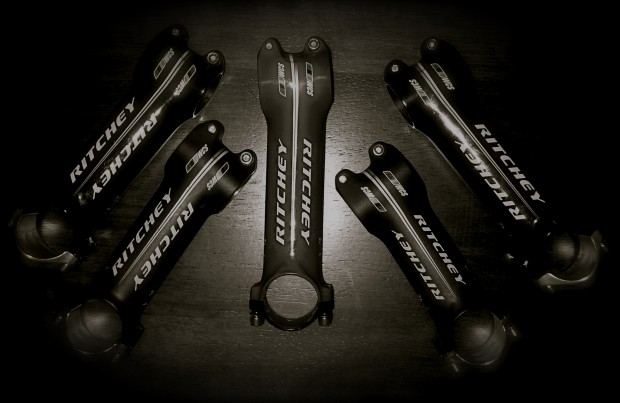 Maybe it's my mountain bike background.  It could be the brand's long association with Thomas Frischknecht, one of my all-time favourite riders.  It's more likely that they are light, look great and don't cost the earth.  Whatever the reason, there's something about Ritchey 4 Axis stems that just does it for me when it comes to attaching my bars to my steerer.
My first Ritchey was acquired around 2001, when an original WCS 120mm model, accompanied by a matching bar and seatpost, found its way onto my magnesium Merida (notorious for their strange choice of frame material, prone to cracking, but that's another story).  Those parts found their way onto my next two bikes, but after a few years of service, the graphics were starting to look a bit dated, and they were sold off.  When my next build was undertaken, there really was only one choice for the cockpit components.
Over the last two years, my collection of Ritchey stems has grown to cover the gamut of sizes;  I ran a 100mm on my mountain bike, but it has been replaced by an 80mm (not a Ritchey, but that will no doubt be rectified soon).  My road bike and my 'cross bike have seen service from 110, 120 and 130mm units.  The two longest examples are presented in the sweet 'Wet Black' finish, and currently a 'Wet Red' 130 graces my Roubaix.  I've also got a hankering for a 'Wet White' option, and teaming it with the white seatpost tickles my fancy too.  My indulgence knows no bounds.
How many 4 Axis stems is enough?  One more…