Anatomy of a Photo: Hunchbacks of the 81 Tour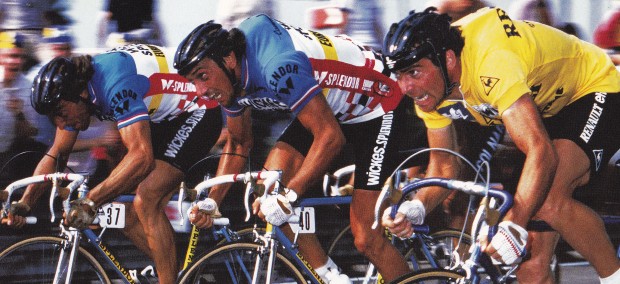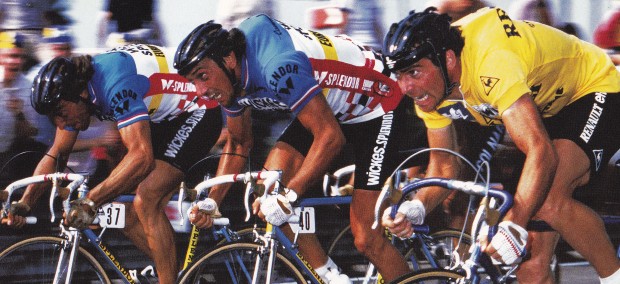 My friend and trainee Velominata Rachel has a keen cycling eye and an inquisitive mind. While perusing the book Tour de France/Tour de Force she happened upon this image of The Badger, Bernard Hinault, sprinting for a stage win in the 1981 Tour. We know this because the caption says so. And that is pretty much all it says; no other names, no photo credit, nothing.
Of course, I wanted to know who the other protagonists are. Some research into that year's race, and the Wickes-Splendor team pointed to one of the riders being Eddy Planckaert, who won Stage 12 (*Part B) into Zolder. The other one though? Could it be old bro Walter? (Not likely, he finished way back that day.) Sean Kelly was on the team too, and was always up for a bunch gallop, but of course it looks nothing like the Irish hardman (his legs are uglier than those, says Rachel. And by ugly, I think she means awesome). No, my hunch is it is Guido Van Calster, as he took fourth on the stage that we whittled it down to. *Stage 12 was broken into Part A (Roubaix-Brussels, 107 km) and Part B (Brussels-Zolder, 133 km), both raced on the same day.
While not really interested in who the other riders were, the thing that stood out most to Rachel was the strange lumps on the riders' backs. Not Camelbaks (because that would violate Rule #32, and they weren't invented yet), probably not race radio transmitters (not sure if they were around then either). Not bidons (too square), not food (why have food stuffed down your jersey in a sprint?), so what the hell could they be?
Once again, we trust in the Velominatii to decipher the clues, and feast on the pure awesomeness of another great photo.