The Devil Wears White Shoes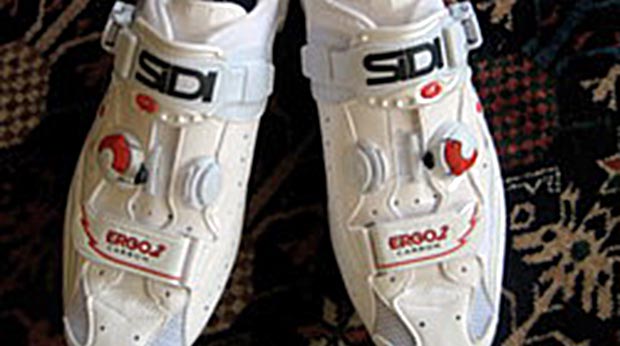 Did I need new cycling shoes? Absolutely not. In fact, as I rode that day I planned a product review post for my one year old Specialized road shoes. A year seems like a good long time to get to know intimately one's cycling shoes. My review would be quite positive: light, comfortable, not too expensive, great Boa tensioning system. Would I regress into the long (and tedious) tale of shoes past, my old leather Marresis from Italy-shoes so great they deserve a post all their own or my Le Mond Carnacs or my second pair of blue and yellow Carnacs?
I may have issues with cycling shoes. Not an Imelda Marcos collection issue, more along the lines of a Jewish mother's thinking that no prospective-woman-is-good-enough-for-her-son sort of issues. Do I need to explain who is the mother, son or prospective woman in this?
Riding is a good time to work these complex subjects over, my brain is using only lower functions to ride… dog!… faster fat boy… gun check… piss off!… other sectors of brain can freewheel on things subconsciously. I do some of my best thinking on a bike.
Before I ride home I wheel into Corner Cycle, my local shop to pick up cleat covers. It's summer and the shop is crammed with people and bikes as I enter. I clip clop in, sweating profusely. George, the owner, approaches and asks the sort of unbidden question we all love (and fear) to hear. "What size shoes do you wear?" He leads me to a quiet back corner of the shop and pulls out the White Sidis. Too large for him, barely used, do I want them? Do I want them? Sweet Jesus……..the White Sidi Ergo 2, gleaming uber-white, shoes so Italian they have three different buckle systems per shoe. Past lust springs anew in my bosom. I'm safe from this lust as I know these are too expensive, they won't fit and I already have nice shoes. George confers with his computer and quotes me a wickedly huge discounted price. Gulp. Still sweating from the ride, I slide feet into the white devil slippers. Whew, too snug on the left foot, "Sorry George, thanks for thinking of me." My brain is still in low function and now "tazed" by this turn of events, I can't deal and ride home.
Two days later, like an overgrown pervert sneaking into a peepshow in broad day light, I make my furtive return. A flurry of fittings ensue: with insoles, without insoles, different socks, different buckle system tensions, repeat ad nauseam.
The good news is, I'll have another high end pair of shoes to compare to my Specialized shoes in the Great Product Review Posting, one year hence. The bad news is, these are so damn white all my short white socks look highly dingy, I can't stop shaving my legs now and these shoes may be too snug(*?!).