Anatomy of a Photo: 1986 Milan-San Remo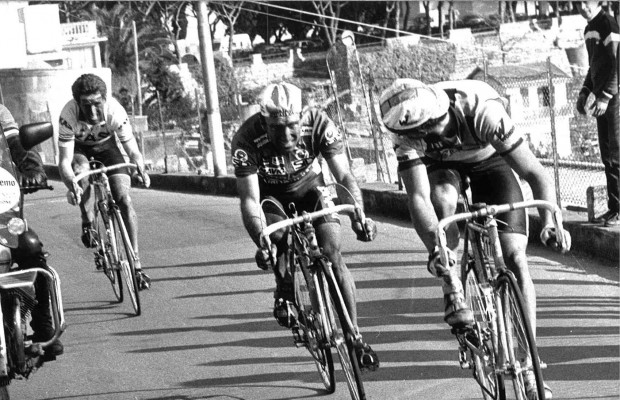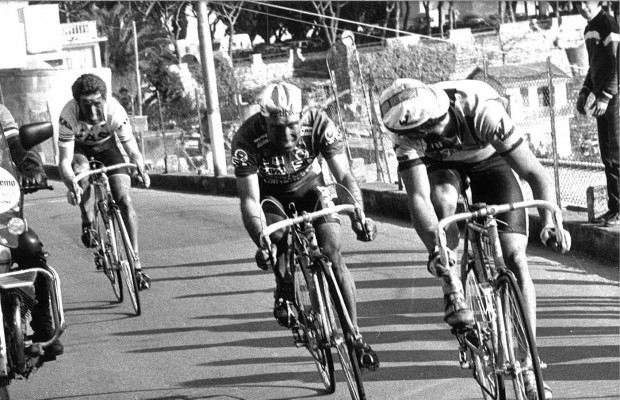 It's a classic tactic. The day's break is caught and before anyone has time to decide what to do about it, you counter-attack. Already tired from chasing the break, maybe – just maybe – the suckers you tricked into pulling for you will let you get away.
That was Beccia's plan in the 1986 Milan-San Remo. He attacked right as the break was caught on the Poggio and Greg LeMond – America's greatest-ever cyclist – went with him. The Poggio's big-ring gradient must have suited LeMond's powerful style perfectly and riding with the weaker Beccia, he must have felt almost assured of notching what would be the first American win in a monument.
A quick check over the shoulder to make sure no man is bridging up. Sure enough; no man is coming, but that doesn't mean you're not being overtaken. That's Sean Kelly – half man, half bear, and half pig – doing his best to crack his bottom bracket on his one-race-per-frame Vitus.
That's three big rings and three hard men, but only one has managed to scare the mud off his forehead. Spoiler alert: the finish line photo shows Kelly with spotlessly clean face.