Anatomy of a Photo: Awkward Adolescence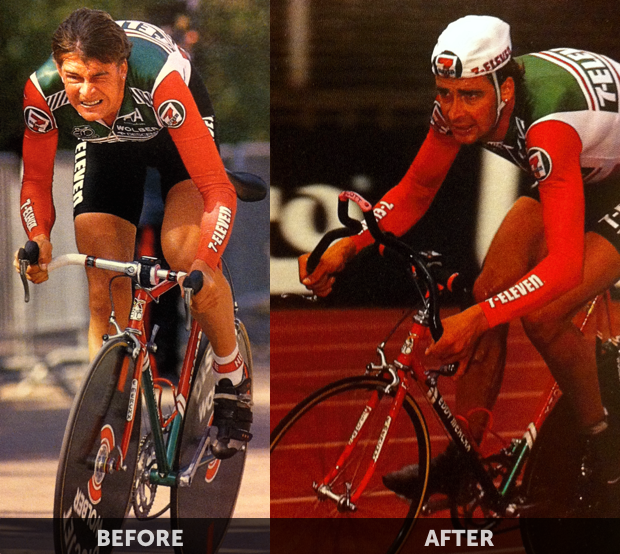 Evolution is a slow, gradual process, punctuated by sudden change. For the first 80 years of our sport, riders rode contra la montre on their regular road bikes. For certain, the bikes were carefully cleaned and tuned to remove all possible resistance, but these were their standard, daily machines. Then, in a span of barely ten years came the skin suit, aero helmet, and the coolest time trial innovation ever, the cow horn handlebars. Then it was on to aero bars, and since that innovation, we've been back to gradual change, thanks in large part to the UCI declaring creative thought to be against regulation and banning all but the most conventional bicycle designs.
For a time, however, it was as though Pandora's Box had been cracked open, and from it sprung countless innovations that would change our sport for ever. Some were good, some where bad, some were altogether too much, but all of it was exciting and all of it was cool in its own right. It was a thrilling time for cycling.
We did, however, enter a very awkward adolescence as the Pro Road Racing scene struggled to adopt the aerobars which had permeated the Triathlon world. The challenge was, of course, to integrate a handlebar made popular by men and women wearing Speedos and doodle on themselves in an appropriately sophisticated European manner. But things were to get worse before they got better; in the span of a single season, Sean Yates went from doing the one-eye V-Squint to wrestling with the Scott Noodles of Death. Even the ever-classy Johan Museeuw couldn't manage to make a graceful transition.
We figured it out eventually, but it wasn't exactly a painless process. For your review, I've collected a handful of examples from the progression.
[dmalbum path="/velominati.com/content/Photo Galleries/[email protected]/Aero Bars/"/]