Anatomy of a Photo: Cannibals Eat Badgers, Too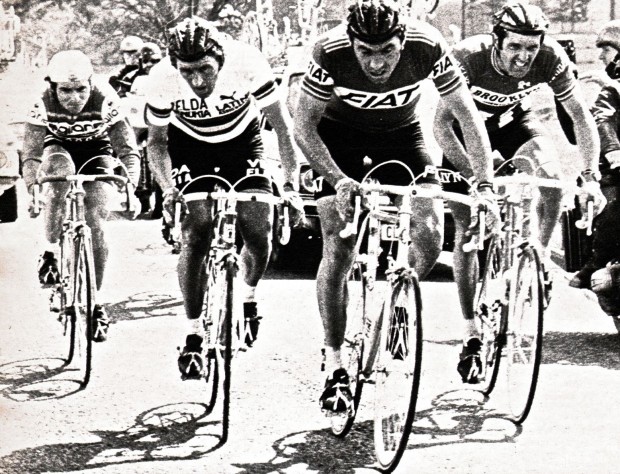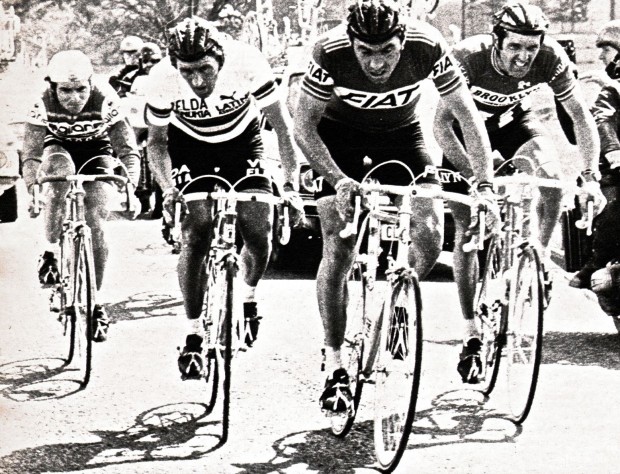 I'm not quire sure which climb this is, but I'm certain the race is Liége-Bastogne-Liége and I'm guessing the climb La Redoute. On the surface, we have the end of a bygone era; when the big names contested not only the cobblestones of Roubaix and Flanders, but also the Côtes of Wallonia.
The looks on these rider's faces says everything we need to know. An aging but still great Cannibal has the look of a man who spent his career as the Custodian of the keys to the Hurt Locker, but his pride won't let him relinquish them to anyone in this group, even as his snarl clearly tells us he knows his power is fading. De Vlaeminck clearly wishes he could trade these slopes for some brutal stones, but his determination makes him stick to Merckx like cat hair to an Italian wool suit. Freddy Maertens isn't even in the Hurt Locker anymore. He got squeezed out through the air vents on the locker door when Merckx crammed RDV in there as an Elementary School bully does the class dork.
And the Badger…oh, the young Badger cub is being inducted into Classics bike racing in the most unimaginably painful way. He's under so much pressure, his cycling cap has crept all the way up to his hairline, which I'm guessing is also regressing in real-time from the effort. The look on his face is half self-satisfaction that he has managed to hold onto the big wheels in front of him, and half about-to-burst balloon. If this photo were in color, you can bet his face would be bright-red. I also note with curiosity that the Badger is the only rider still seated and in the drops. You can almost hear him cracking from 35 years away.