Anatomy of a Photo: Rule #47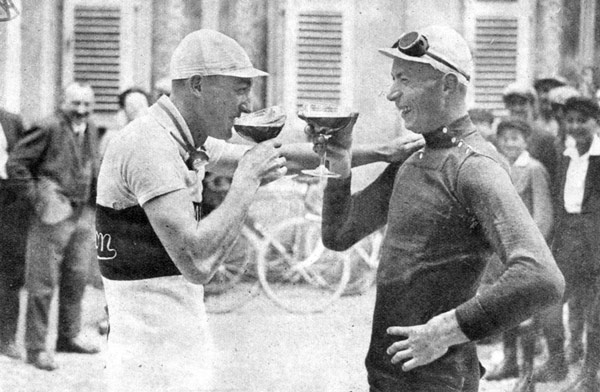 André Leducq was a complete French Badass, with a capital B. He was third, below Merckx and Hinault for Tour de France stage wins. Nicolas Frantz was an equally Badass Luxembourger. He rode to more victories than Frandy Schleck shall ever attain in a few lifetimes. He did win the Tour de France.
The crowd is obviously pleased to have these thin, healthy supermen in their village. Bicycles are properly leaned against a wall. Their caps look a little dusty. Studying the glasses a person might guess they are enjoying some of Belgium's finest beverage. Maybe, in the late 1920s the French brewed excellent beer. Are they drinking before a race or after a race? Can one look this good after a race back in the 1920s? Let's assume this is post-race. Someone won, someone didn't. Two rivals can still have a laugh and a glass of quality malted recovery beverage to make the day complete. These brothers of the road are enjoying some beautiful ale and having a nice time doing it.
As we have pointed out many times, we didn't invent these Rules, we just wrote some of them down.