Anatomy of a Photo: Unveiling of Banesto's New Kit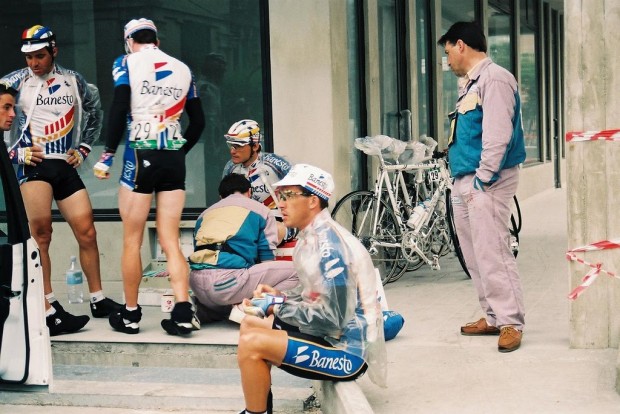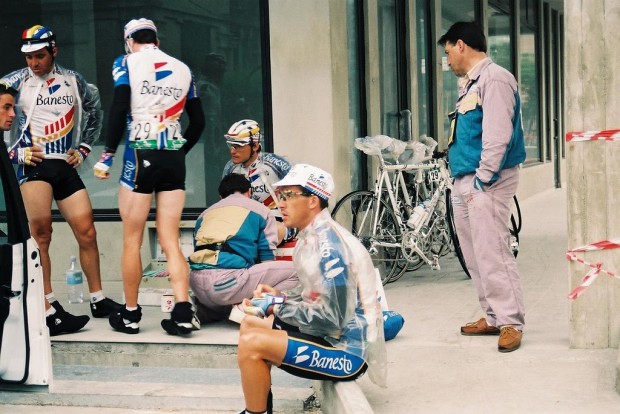 With the "widely anticipated" unveiling of both Leopard-Trek's and Garmin-Cervelo's new kits we thought it would be interesting to look back into the archives to see how it used to be done.  Nowadays, the new team and kit presentations are done with much fanfare, limousines, black-tie events, and sometimes even strippers.  But back in the day (at least in the early 90's) it was a much more simple affair.
Looking at this photo it's not hard to imagine the Banesto squad prepping outside on the Banesto bank steps in Madrid or some such place while the bank's board of dignitaries waits inside in the conference room to see the product of their  investments.   But this photo leaves the viewer with these questions.  Is the team fixing to mess with the board by hiking up their bibs, pulling down their leg warmers, and wearing their sunnies underneath helmet straps?  Are they initiating new riders to The Rules by visually demonstrating crisp tanlines and the faux pas of short socks?  Or maybe they're waiting for Big Mig to show up and dress them properly.  These are the questions a Velominatus asks.
(disclaimer:  after vigorous "research" it was determined that it is not known whether this picture was taken at a pre-season team meeting or even in Spain for that matter)