Guest Article: Anatomy of A Photo-Perseverance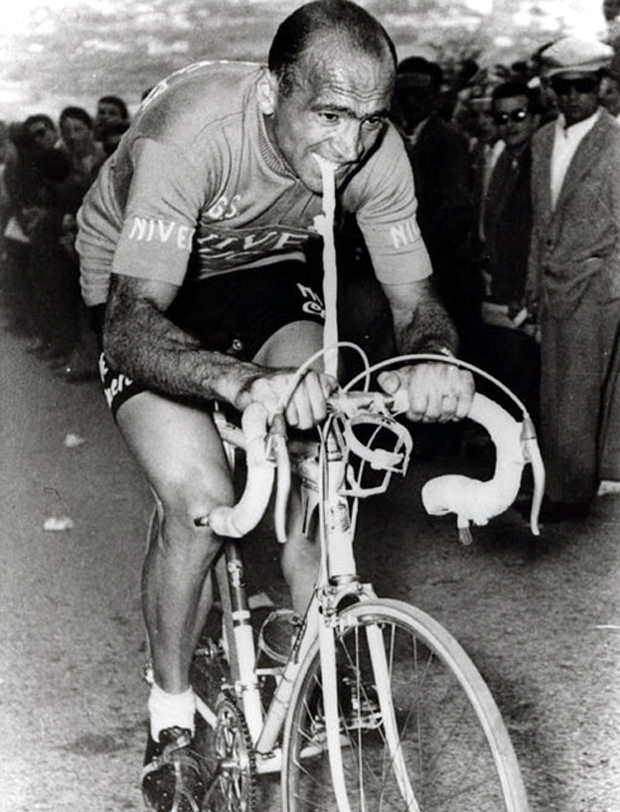 Jeff in PetroMetro submitted this piece to us quite some time back, and we decided to hold off on publishing it until we got a little closer to the Giro, due to the story's relation to the Giro. We knew it wouldn't be the first time someone has written about it, but that's never stopped us before so why should it now? As it turns out, however, we also weren't the first to get the bright idea that this story deserves to be told near il Giro, as it appears Rouleur has done a feature on Magni as well.
But this tale has never been told as a prestigious Anatomy of a Photo piece. So we've got that going for us. In any case, a lovely tale, and one we believe should be told as many times as possible; this is what we mean when we say that cyclists are tough, but that perhaps the breed of hardmen produced in the past were just a bit tougher than they are today.
Yours in Cycling,
Frank
—
I am in awe of the man in this photo.  He was Herculean–a true hardman.  When I first saw this picture, I needed to know more.  So I did my homework.  Now, I share just a small bit of extraordinary cycling lore with the Velominati.
The man is Fiorenzo Magni, the Lion of Flanders.    He earned his nickname by winning the Ronde van Vlaanderen three times-in-a-row (1949, 1950, and 1951).  Besides being known as Il Leone dell Fiandre, he was also referred to as "The Third Italian" when discussed in relation to Bartali and Coppi.
He was a prolific winner in the golden age of Koblet, Kubler, Bobet, Geminiani, and the aforementioned Il Pio and Il Campionissimo.  He won the Giro three times.  He was the Italian National Champion.  He wore the Maillot Jaune.  His career was astonishing and his palmares lengthy, especially when one considers the talent he faced.
This image is from 1956–the 13th stage of the Giro d'Italia.  At the time, Magni was 36 years old.  He'd broken his collarbone on the previous stage.  There was a rest day in between the crash and when this photo was taken.
Doctors told him to quit the Giro.  He'd need a plaster cast.  He asked them to wait and see.  He didn't want to quit.  He and his tifosi knew this would be his last Giro.  He'd already announced he would retire from professional cycling at the end of the season.
His chance of winning his fourth Giro was over, but he chose to continue in honor of his fans, his team, the race, his country, and his legacy.
The 13th stage was an individual time trial with a significant amount of climbing.  While warming up, he discovered he could not pull up on his bars.  Quickly, his mechanic, Faliero Masi (later of Masi bicycle fame) devised an ingenious way to give Il Leone some leverage.  Masi cut an innertube and tied one end of it to Magni's stem.  He then asked Magni to hold the other end in his teeth and pull back when he would otherwise need to pull up on the bars.  It worked, and Magni lived to fight another day.
What Magni did during the rest of the Giro was, quite simply, Homeric.  On the 16th stage, he crashed heavily on the same shoulder as his broken collarbone.  (He could not brake with his left hand and his back wheel slid out on a fast descent.)  He fractured his humerus, but did not know it at the time.
He passed out from the pain.  Because of the respect the peloton had for Il Leone, they waited.  The ambulance came.  He regained consciousness and was given water.  He refused to be driven to the hospital.  He remounted and ultimately finished the stage.  Later, he would not see a doctor.  He did not want to know the extent of his injuries.
On stage 20, it snowed heavily from start to finish.  The conditions were horrible.  Sixty riders abandoned, including the Pink Jersey.  In Trento, near the finish, his team car came up to tell him that he was third for the stage, and would be second to Charly Gaul on GC.
During the final two stages, Magni repeatedly attacked Gaul in an attempt to win his fourth Giro, but the attacks were unsuccessful.  Gaul was too strong, and Magni too depleted.
Although second overall on GC, Magni has stated that this was his proudest victory.  In this Velominatus' humble opinion, it might be the most powerful demonstration of the V I've come to know.
A-Merckx.