Six Days of the Worlds – Anatomy of a Photo: Paolo Shoots to Kill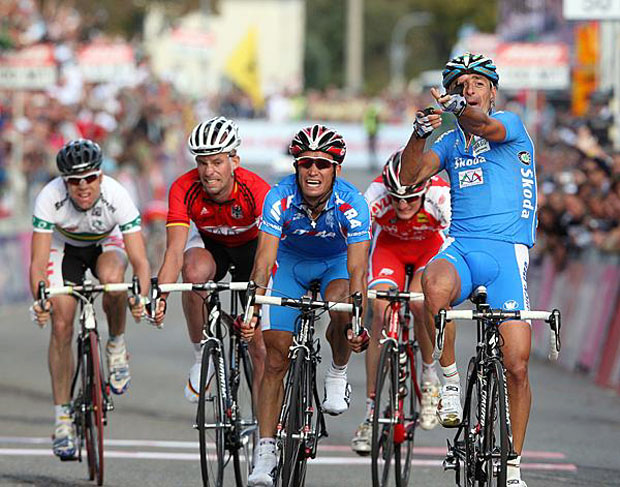 I remember two principle things from the 2007 Men's Elite Road Race.  First, my favorite rider at the time, Danilo Di Luca, was barred from starting due to his implication in the Oil for Drugs doping investigation.  Second, there was a controversy over the fact that Paolo Bettini had refused to sign the UCI's Code of Ethics which stated that any rider who tested positive for banned doping products agreed to pay the UCI a year's salary as part of their penalty.
Bettini, of course, argued that this violated his human rights and that he refused out of principle and not because he was involved in doping practices. To be fair, the testing process is far from perfect and riders have falsely tested positive in the past; with that uncertainty in mind, I suppose I can see his viewpoint. Despite that, his refusal was largely seen as an unwillingness to commit to riding clean which is, in itself, an interesting commentary on the state of affairs in cycling in general.
In any case, the UCI moved to ban him from the race, a big legal battle ensued, Teeny Bettini was allowed to start, and he bolted from an elite group to win on the streets of Stuttgart, firing an imaginary gun in the direction of the officials' booth – which on it's own also created a whole new controversy.
So many people shot at me this week, so I wanted to do the same when I crossed the line. The gun was not fired at someone in particular. If someone felt it, then, they know who they are.
Which is kind of a way of saying that he shot at people in particular.
In any case, I don't remember much from the race itself, aside from the finish line antics.  Until I saw this picture, I had even forgotten that my boy Grimpeur the Elder was in the winning move, or that Good Cadelephant was there as well, taking last place in the sprint.  The Ugliest Man Ever To Wear a Helmet, Stefan Schumacher, managed to dope his way onto another podium, and perenial Forgetable Man, Alexandr Kolobnev, took silver.