The Works: The Official Treasures Of Le Tour de France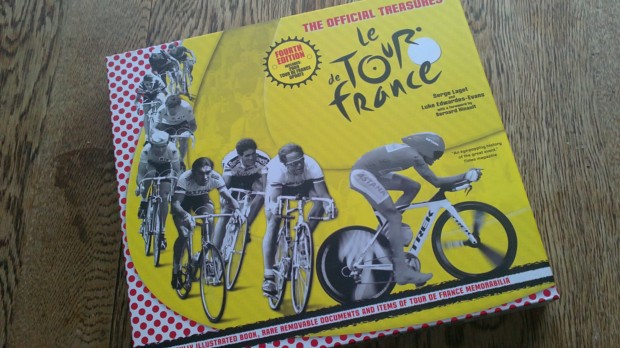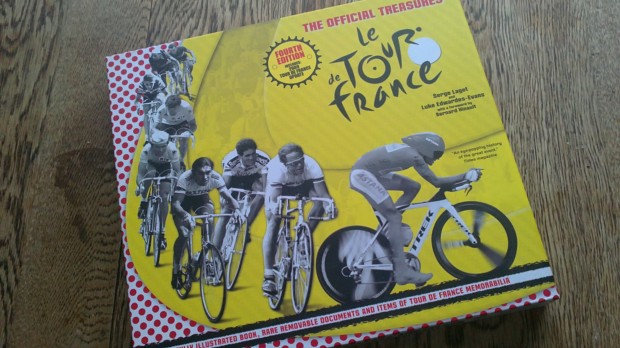 If you're looking for doping scandals, controversy, or lanky Brits with questionable dress sense calling people wankers, then this book is not for you. If you are looking for a comprehensive collection of memorabilia and interesting tidbits on the history of the world's largest sporting event, then look no further than this beautifully presented tome.
This is one for the collector, an aficionado of cycling and the Tour in particular. While it may not be the glossiest or flashiest looking book out there, the amount of information offered is staggering, and for those wanting to impress their friends with factoids it's hard to go past. The history of the race is covered from the very beginning right up to 2009. My copy is the 4th edition, and apparently the 5th edition will be released in August; whether or not it will cover this year's race I don't know.
While there is a veritable tonne of reading, the real beauty of the book is the various inserted facsimilies of old postcards, posters, fan cards, race routes, race rules, even material from the promotional caravans like paper hats and pop up masks of the heroes of the day. Some of the posters would look great framed and mounted in the pool room, or just left in their jackets in the book and taken out for perusal at your leisure.
Although I said there are no doping scandals in the book, the Festina and Landis affairs are touched on, and 'The Indurain Era' and 'The Armstrong Era' get a couple of pages each too, and while never delving too deep into the semantics there are certainly allusions to the changing face of cycling in those years. All the great riders are featured, all the famous stages, the various competitions explained and everything you need to know or never knew is here.
I was given the book by a friend who isn't into cycling at all, and even she got a kick out of opening up the little envelopes and folders to see what hid within. And if you don't read French, there is also a translation booklet to decipher all the Gallic text on the reproductions of the letters and cards, some written by Henri Desgranges himself. And the foreword is courtesy of The Badger, Bernard Hinault.
This is a great addition to any cycling fan's bookshelf or coffee table.
Le Tour de France, The Official Treasures. By Serge Laget and Luke Edwards-Evans. Carlton Press.
[dmalbum path="/velominati.com/content/Photo Galleries/[email protected]/tdf book/"/]