Velominati Super Prestige: Tour de France 2012, Stage 11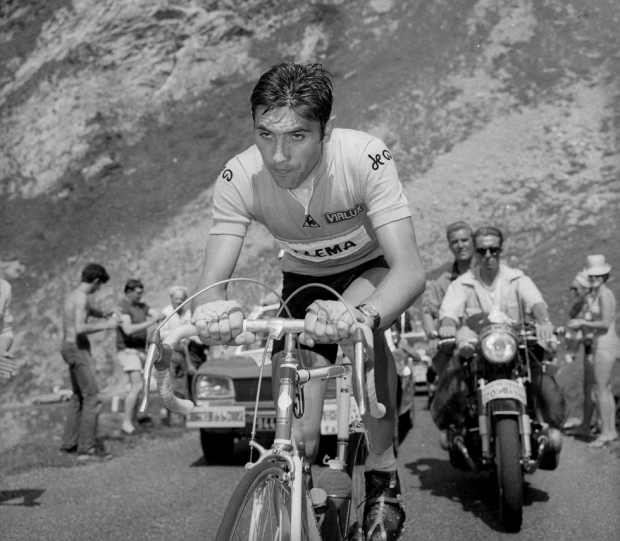 During the 1969 Tour de France, Felice Gimondi and Ray Poulidor were fined for taking a ride from a lorry up the Tourmalet. What about Merkcx? Well, he was towing the lorry.
Its an old joke, but like any good joke, it stays funny no matter how many times you hear it. I bet it's even funnier if you know what a lorry is. I knew a girl named Lori once – wasn't funny at all – though she would give a ride to anyone who asked, so I'm assuming that's the joke.
Merckx decimated the 1969 Tour in a way we haven't seen in ages. On July 15 of that year, The Prophet started the day with an almost unassailable lead of somewhere around 8 minutes. Not enough, obviously. So it was, then, that his rivals' tails wagged at the sight of him flustering with his gears near the top of the Tourmalet. A mechanical, obviously, sure to cost him loads of time. In fact, he was just moving Sur La Plaque into my personal favorite gear for climbing – the 53×17. They wouldn't see him again that day and four hours later, his solo effort would net him another 8 minutes' lead.
If anyone at this Tour de France wants to beat Bradley Wiggins, they're going to have to set aside the in-vogue last-mountain attack or start putting a lot more stock in poisn'd entrails, eyes of newt, and wool of bat. Unless their strategic plan involves deliberately crashing the entirety of Team Sky or having them all come down with a synchronized sniffle, they're going to have to start riding their bikes hard from a lot farther out than the 5km banner.
Stage 11 is the test, even though Stage 10 is also a test and may already prove me right or wrong (it will be one of those, I'm sure of it). But Stage 11 sees the finish to La Toussuire where Floyd Landis cracked and lost a mountain of time before regaining it the next day and subsequently testing positive for beer-induced testosterone. Its not a very steep climb, but its hard enough to suck if you blow up. It won't be hard enough to drop an in-form Wiggins, so Nibali and/or Evans will have to hit the road a lot sooner than the last climb if they're going to start making inroads. And if my boy Fränkie Schleck wants a chance at the win, he should probably start the stage today.
It's time to ride with the breath of a cannibal.
You know the drill: get your picks in by the time the countdown clock goes to zero for a chance to win a pair of fizik R3 road shoes and two pair of DeFeet socks.