Listen to your body – Sensations from l'Alpe d'huez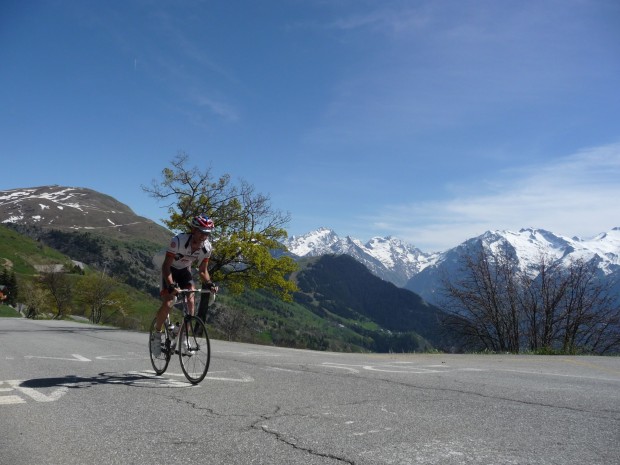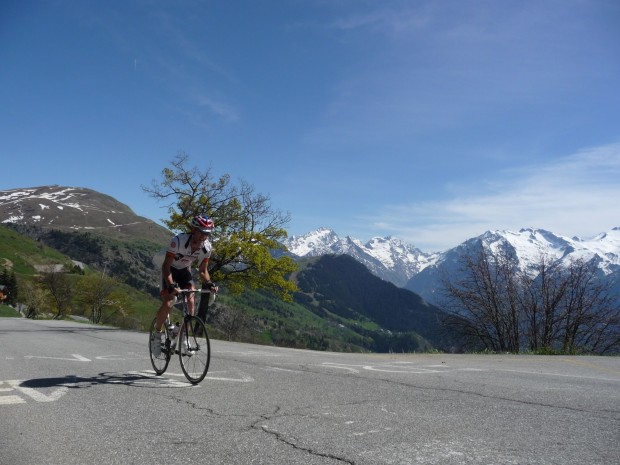 When we announced Keepers Tour 2012, one of the first to put up his hand and pony up for the Cobbled Classics experience was my good mate Rigid. When I first met this Wellington rider four or five years ago, his enthusiasm for cycling (on and off-road) was evident, but his grasp on the finer points of The Rules needed a polish; like any good Pedalwan, he took on board my sometimes-not-so-subtle advice with good natured acceptance and a thirst for knowledge that made this old Cycling Sensei flush with pride. 
After the Keepers Tour ended and the battered bodies and livers made their ways home to all corners of the globe, Rigid had the good fortune to be staying on in Europe to travel around, catch up with friends, and ride his beautiful Time VXR over even more iconic routes, smoother but steeper than what we'd encountered in Belgium and Northern France. And if you're going to ride iconic climbs, surely at the top of anyone's list would always be the mighty l'Alpe d'Huez.
While not included in this year's Tour de France, we thought now is as good a time as any to present Rigid's account of his hot, hard and humbling day on hallowed ground.
Yours in Cycling,
Brett
Recently I got to live out the dream of many cyclists, to ride up one of the most iconic climbs in all of cycling; l'Alpe d'huez. Hewn from twisted rock and a vertical elevation of around 1100m, it was always going to be a big ask for an amateur cyclist and one who has never put a needle of EPO into his veins.
After a warm-up 50km ride from Grenoble, up a valley with a false flat and a gradual crescendo of forested mountain peaks, my cycling companion Antonio and I reached the quaint town of Bourg d-Oisans. A quick check of tyre pressure and some nervous comments about our impending trial of truth followed and we were off down the road. With little fanfare or even signage we rode onto the first ramp, well over the average 12% gradient. The heart rate instantly rises to limit point, breathing becomes laboured and the heat from the grey asphalt in the midday sun approaches unbearable. We pull in a couple of hairy-legged MAMILS before the first hairpin, without so much as a 'look', but the private thought is "if the mountain continues at this gradient, we are going to crack sooner rather than later".  I turn to see Antonio had slipped slightly backwards and seemed to have a sad smile on his
face, which said "go ahead if you can mate, I'll see you at the top". I sit forward in the saddle, get in position to channel the V-locus and establish a climbing rhythm I hope I can maintain.
The hairpins are numbered  in reverse order from 21 to 0 so there is a gauge with which to measure individual pain and exactly how much longer it is going to continue. Each bears the name of a stage winner, starting with Armstrong / Coppi as the fastest at the time (37'36") and first ascent (1952) respectively. Another effect of these sign posts is to constantly remind you that you are riding in the wheel tracks of Giants of the Road. Names such as Zoetemelk, Kuiper, Hinault and Bugno inspire you to greater endurance as penance and a mark of respect. These hard men asked themselves a question – "after riding for weeks, over thousands of kilometers, do I really want this? Can I push myself into the hurt zone far enough to get to the top of this mountain and win this race? The answer in each case was yes. Some of their names appear multiple times such as Pantani (fastest recorded time 37'35"), and Peter Winnen, indicating that they owned this climb within the span of their racing careers and would not relinquish their hold on it until it was prised from their grasp by up and comers.
As I continued to wind up the mountain, other sensations started to come into play. Mountain streams cascade on either side of the steeply inclined road and the temptation to get off the bike and soak one's head in cool bliss is great. I feel it is important to ignore these urges and all other distractions of the mind as I am conscious of Swiss time ticking away on my watch.
The number of fans on the mountain each year is roughly constant at 350,000 to 400,000 but peaked the year Pantani set the speed record at one million. I tend to visualize thousand's of screaming fans, exhorting me to greater speed and dumping bottles of water over my head as I dodge them, trying to find a way through the chaos. This illusion, however, disperses quickly and I come back to the loneliness of the cyclist in a private world of hurt, hoping for it to end as soon as possible.
Passing a small church on a hairpin corner, I realized this is the famous Dutch Corner and indeed the evidence is there, in the form of faded orange spaypaint on the road. The Dutch have adopted this mountain due to the success of many of their own riders and this is the loudest section of fan support on race day, but for me there is just the murmur of streams and the rustling of leaves in the stilted breeze. Incredible mountain views open all around me but my eyes mostly bore down on a spot of road, a couple of meters in front of me.
On and on, numbers counting down, legs burning with lactic acid, I see Pantani's name on a hairpin and get a rush of blood to the head. Standing on the pedals, gripping the drops and swaying Pirate-style I sprint for ten metres or so before my body tells me that is a very bad idea – "sit down you idiot and maintain climbing rhythm and manageable heart-rate". I imagine this is what Cadel tells himself as Contador or another Grimpeur launches a stinging attack, the choice between containing it, or limiting losses at the finale. Pantani himself won in 1997 by attacking three times during the climb, obliterating his opposition, with only Jan Ullrich able to hold his wheel before succumbing with 10km to go.
Looking up the mountainside becomes damaging to morale, as the sight of the road hundreds of metres above, over the next crest, strikes fear into the heart and drains the legs of power. A glance down at my right leg returns me to the task at hand, Rules #1, #5 and #10 blaze off the sweaty lycra and are incorporated into my breathing pattern. I hear the voices of The Keepers – Frank, Brett, Gianni and Marko yelling " go you mother?$@&! " and I pick up the pace yet again.
Through the dreaming village of Huez and onto the final slopes before the ski resort I take a wrong turn and ride three hairpins before realising my error, cursing and riding back down to the correct route. Never mind, that means I can take ten minutes off my time – right?
Finally the route narrows between the chalets and bars where the flamme rouge of 1 km to go usually sits. My sense of direction again becomes confused and I find my way to the finish line in a daze, via a car park.
The famous Alpe d'Huez climb has failed to break me, I record a respectable 1 hour and a bit (with some wrong turns) and I feel the need to celebrate immediately with a cool beer, a mate and a view of the epic scenery. I have a new respect for the riders who have gone before me and those that will follow, both hardened pros and rank amateurs who have taken on this mountain, and the road which furrows her brow, to glorious victory or merely a quiet sense of achievement.
I feel like I have earned my spurs and can call myself a rider.
[dmalbum path="/velominati.com/content/Photo Galleries/[email protected]/rigid/"/]