Whidbey Island Cogal; October 15, 2011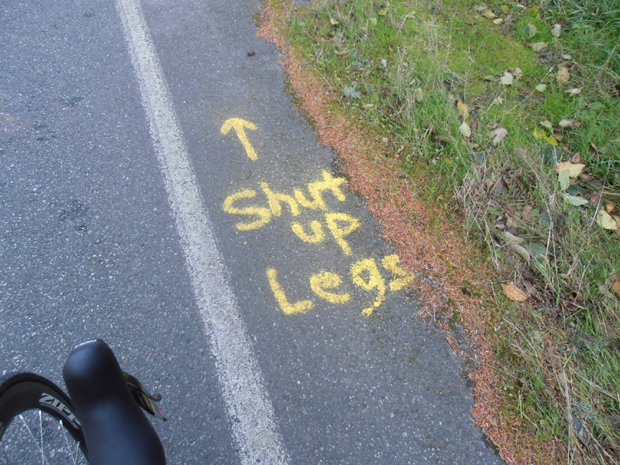 On October 15, 2011, a select team of Velominati gathered in Langley on Whidbey Island to go for a ride together. These gatherings, referred to as Cogals, are a key component of the vision of Velominati, to bring the community from the Interwebs into the reality of The Ride. After all, we are Cyclists and we are meant to ride our bikes – not sit behind a computer. Anyone is welcome; everyone who is able should attend.
Velominati's first Cogal took place in Wellington, New Zealand in honor of Paris-Roubaix, and we've now brought the concept to the You Ess of Aye. There are grumblings of a Texas Cogal in the works, as well as a Portland Oregon and Madison, Wisconsin. For anyone who wishes to organize a ride, please contact us and we'll help with the mechanics of getting the announcement made. Cogal attendees have the opportunity to purchase custom V-Pints emblazoned with the name and date of the Cogal, available only to those who attend the ride and may only be picked up directly from the ride organizer.
Below are the observations from the ride from those who elected to share.
Frank's Take
Despite being a career technologist and the one who founded Velominati in the notion of bringing Cyclists together from all over the world, I was more than a little wary of meeting a bunch of people I had only ever met online. Cyclops, who sparked the fire that would become the first North American Cogal, appears to not share this wariness. While I was out collecting Marko from the airport, he called and commented on the size of one of my dogs. You're at my house? "Yeah." OK. Um, we're gonna be a while, dude. Best go find something to do." Thats how they roll in Idaho Falls, apparently. No worries.
After shaking off my stuffy European surprise of boundaries being crossed, Marko and I met Cyclops at my house a few hours later as we set about dialing in Marko's position on my TSX. It's amazing the gear one collects over time; I found I had stems laying around in every length except 110mm. Nevertheless, we got him dialed in and the three of us hopped in my car to drive up to Whidbey Island to mark the route and do a little position-dialing ride.
Within two minutes of jumping on the bikes, I heard the unmistakable sound of air escaping my $15 latex inner tube. Bugger; I remember the last time I had a flat. It was four years ago, on 28th and 65th. Flat fixed, off we went along our way. Cyclops attacked from the gun, which we would later learn is his SOP. A little while later, I inspected the map and realized that rather than reconning the route, we were simply identifying the wrong way to leave town. I always say that so long as you learn from your mistake, doing something wrong is almost as good as doing it right: at least now we know how not to leave town.
Back to Seattle, we headed into town to meet our fellow Cogalmates at Quinn's Pub. We were late, due in large part to a stalled semi on the exit ramp. We were forced to take an alternate (longer) route. But as we say in Dutch, sometimes you are lucky by being unlucky: through making a traffic maneuver of questionable safety, I was able to invoke the fury of a foreign cab driver who then rolled down his window to inform me that I was a "fuck fuck asshole".
I had a great time at dinner, getting to know people and being confused about whether I should be be calling them by their V-Handles or actual names. Marko and Cyclops partook in my favorite second-favorite Trappist ale, unaware of how much alcohol is contained in each of those glasses. The alcohol kept going down, the volume of the voices kept going up.  Good times.
The next day was early to rise, watch a bit of Lombardia, eat some grub, load up the bikes, and head out to the island where we were to meet a rider whom we hadn't yet met online, Drew. As it turned out, Drew had some serious guns and a beautifully manicured bike – exactly what you'd expect of a Velominatus. At precisely V past 10am, we set off and Cyclops attacked from the gun as the rest of us settled into setting a no-drop pace. The challenge with setting the pace that is the riders at the front are the ones setting it, and they usually don't have eyes in the backs of their heads. The pace worked for a while, but eventually we disintegrated into separate groups. Lesson learned: do a better job setting expectation and controlling the pace such that everyone stays together. After all, the ride wasn't a hammerfest; we were there to get to know each other. That said, the ride was a blast, but our apologies to those who found the pace too high.
We regrouped for the final stretch into town where Cyclops rode off the front one final time. Into the last climb of the day, and he put it in reverse and climbed like a rock, finally being the last to roll into Langley. In the software industry, we call that FILO (First In, Last Out.) We finished out the day with beer and a few slices of pizza that tasted like the best pizza in the History of the World but which was in reality, I'm sure, little more than a greasy slice of melted cheese and other stuff.
I'd like to thank Velominati for being such a cool community and Cyclops for getting this ride together. This was a really, really fun day; I can't express how much I enjoyed it and how honored I feel that people took time out of their lives to join us. Thanks to all.
Marko's Take
I learned of the event just like the rest of you, from the article that 'clops posted announcing the Cogal. My impulsive reaction was "I just might be able to make this shindig!" My pragmatic reaction was "I'm well past two months from peaking, what's the VMH going to say, what will I do about a bike, and how much is this going to cost?" Impulsivity wins every time so I talked to the VMH (Merckx I love that woman), double checked my schedule (I "teach" so no problem), made cheap travel arrangements (thanks Bro) and said peaking be damned, I'm making this happen. That left the bike dilemma.
Dilemma is way, way too strong a word. What I had was more like a bike smorgasbord.  I ruled out flying with one of my own and was offered any one of Frank's bikes or Tim's recently Rule #12'ed Giant TCR with full DA gruppo as he'd be riding his new one. A finer stable of loaner bikes from which one has never had to choose. There was the R3 (awesome but probably way too big and Frank's number 1 which he should ride), the new Soloist (again, awesome and the least worrisome should I crash and great for rain but perhaps lacking in a certain panache), Tim's Giant (possibly the most similar fit as-is to my bikes but up for sale and I didn't want to risk it), and the TSX (steel, campa, class, and just different enough from any of my bikes to make things interesting). After a flurry of text messages, weather forecasting, frame comparisons, measurement taking, and other deliberations, I ended up on the much heralded TSX.  You must, if you ever get the chance, ride this bike.
Not only did Frank offer up his beloved TSX, he woke at 5.30am on the morning of my arrival to swap the bars for a new pair of Rotundos. Of course the "reason" he used to get the new bars was that neither he nor I had a shorter stem in a 26mm that would fit the bike closer to my specs. Of course we all know Frank's affection for Rotundos and of his quest to match the cockpits on all of his bikes, don't we? Seriously though, how could either one of us lose in this scenario as I too ride Rotundos and could be his wing-man in the event his new bar purchase was put into question by his VMH. Furthermore, the sign of a true Velominatus is offering up any one of his bikes without reservation and thusly making adjustments to the bike so that the borrowing rider can be comfortable. With that, we put my pedals and saddle on the Bianchi, swapped out stems, and I was good to go.
Frank's TSX embodies all that is good and pure about bikes. It is completely silent, has the right balance of shiny bits, is pedigreed, and I had to look down every time I shifted to verify the chain actually moved as I could not feel anything except the click under my thumb or finger at the levers. Here's my Huangism for the Bianchi TSX; it is fucking incredible to turn the pedals on this machine. This is the bike that you keep at all costs in the divorce, the armed burglary, and tell the firemen to save before the photo album and family pet. It is buttah and I can't thank Frank enough for the use of it. *Please don't let my bikes read this article.
Expectation management has already been mentioned in relationship to this Cogal. And for those of you planning a Cogal, expectation management is something that should be considered.  Also keep in mind that building a solid group to ride with takes time. Although it may seem like we have an understanding of each others riding style on this site, we don't. I caution you to expect a fast pace with flawless lead changes, cornering, or pace driving.  What I expected to do was a) go for a long ride with two of my best friends who share the passion but that I never get to ride with due to our distance apart, b) ride with a few new friends whom I've gotten to know a little through this site over the years, and c) ride in a part of the world that I love and enjoy a bit of a homecoming. After all, I was on vacation, slightly hungover, and the aforementioned two months past peaking at the start of the ride. At the end of the day though my expectations were met and I felt great to boot.
There were numerous times on the ride when I took a look around at the guys I was riding with, the scenery that surrounded us, the bike I was perched upon, and the community we created and thought about how fortunate I was to be there. I also thought about the Velominati world over thinking of us and wishing they were there as well. I wasn't motivated to drive the pace because if we did the ride would end sooner and I didn't want that to happen. A Casually Deliberate Cogal suited me as I get plenty of Rule #5 rides at home.
Chapeau to Cyclops for making this happen. Thank you friends for places to crash and bikes to ride. Merci to all of you who made this ride a priority and the first North American Cogal a success. Thank you Rochefort 8. Vive la Vie Velominatus.
Cyclops' Take
I think the first order of things is for us to know with whom we deal:
Frank: Total a-hole
Fronk: Awesome dude – generous, whitty, handsome, etc. Demoralized me on the hills.
Marko: THE funniest guy in the world
G'rilla: Soft-spoken, super nice guy that tears your legs off when the road tilts upward.
McSqueak: He brought beer with him. Rule #5'd the ride.
Eightzero: Crazy nutjob that now has incriminating evidence to hold against all of us.
Drew: Did not suck. Strong non-Canadian Canadian.
Tim: His head tube was extremely beefy.
Cyclops: Was awesome until the last hill. Then he really sucked.
I rolled into Seattle Thursday night, got a hotel and commenced to not get a wink of sleep. The anticipation level for this event was higher than anything I can recall in my life. Sitting at the Master's feet, riding with the Velominati – a Merckxophany is the only thing that could have made it better. I met up with Frank and Marko Friday afternoon and was greeted with heart-felt welcomes and appreciative "oohs and aahs" as I rolled the LOOK into the garage. Then Frank noticed my lazy bar tape termination. A disappointed glance in my direction was all that was needed to crush my spirit and ruin the rest of the weekend if not my life. I knew better though. Even as I was rewrapping my bars before the trip I told myself "Frank's not gonna like this." But I stiffened up the lip and wiped away the tears and brought alms and offerings before the Merckxy Seat that consited of a six pack of various IPAs, a Belgian Trappist ale, some Canadian beer that had Du Monde in it's name, and a 2011 Giro d'Italia souvenir pack to placate Frank's wrath but he still ran the LOOK into a low hanging tree branch wilst it was atop his vehicle. Bastard. But in all seriousness Mr. and Mrs. Strack were gracious hosts. They opened their home to (relatively) complete strangers and I was blessed to have finally got to meet them.
We then loaded up the bikes and headed to Whidbey Island to reconnoiter/mark the route. We kitted up and got on the road and our intrepid leader quickly had us lost. We needed to be getting back for the Friday night meet and greet anyway so we turned back after a mere 25 minutes on the road. Then we found the road that we should have went out on but the combination of rough asphalt and wind made marking the start point with the V-Stencil and Molteni orange spray paint as futile as a Cat 5 trying to close a gap on Jens Voigt. Time to head off to dinner and meet the rest of the Velominati.
We got to our table and I was placed at the head since I was the impetus for this gathering. The beer flowed, the food was devoured, and the bloviations began. A good time was had by all but it needed to come to an end if any of us were going to be in any kind of shape to ride the next morning.
We arrived at the coffee shop in Langley on Whidbey Island and the pre-ride rituals began. A pleasant surprise was @Drew from Vancouver, BC showing up when he had led us to believe he was not going to make it. At precisely V after X we rolled off in the cold mist. The pace was casual until the hills that were steeper than what MapMyRide indicated began putting everybody in their place. There were times when I was not climbing well for my weight while Frank was carrying on with casual conversation. But we always regrouped when Frank had to figure out where we were going. I really enjoyed the chat as we got to know each other and shared stories of racing and riding. Everyone was having a good time. The sun came out and the only things brighter were the smiles on everybody's faces. My end of the season legs were thankful that dwindling daylight cut our 160k planned distance to 130k so we headed for home. A last ditch effort on my part to go off the front in a blaze of glory was thwarted by one last hill that totally drained the tank and I was caught and summarily shelled out the back and limped in about a minute behind the group.
[dmalbum path="/velominati.com/content/Photo Galleries/[email protected]/Seattle Cogal Oct. 2011/"/]
We all went to have a celebratory beer at the pizza place but couldn't eat because dinner was scheduled with Frank's VMH so we had to bring appetites. That however did not stop Marko from eating a slice of pizza that was left at our table by it's previous guests. This is when the weirdness began – I drove G'Rilla back to Frank's and decided that I shouldn't stay for dinner since I had another hour to drive to get to the house I was staying at that night. I think the combination of 11 hour drives, no sleep on Thursday, 130k on Saturday and no food afterwards conspired against me. As I approached my destination I started feeling nauseous and my hands went to sleep. When I would take them off the steering wheel they would involuntarily seize into a position that made me look like I had cerebral palsy or something. I made it to about a half mile to where I was going when I had to pull over with the dry heaves. Trying to get my phone out of my pocket and dial a number with palsey hands proved comical but the humor was lost on me at the moment as I wanted to kill myself to end the trauma. The people I was staying with had to come and get me and put me in bed. I quick trip to McDonald's first thing in the morning for one of everything had me as right as rain in no time. I figure I was dehydrated or my electrolytes were out of whack or something but no harm no foul.
All in all it was one of the most enjoyable weekends I've spent cycling or otherwise. Even though Marko likening the event to Internet Dating everybody did the V proud and Frank is indeed worthy to be praised. The V-Community was a shining example of the mantra "If you're serious, you lose".
Dirty Secret Revelation of the weekend: Frank and Marko are notorious Rule #22 violators.
G'rilla's Take
Marko is even cooler than he appears to be online. And yes, he does have a V-cog tattoo. Left calf, size of a US quarter (for those planning to try it at home).
Frank is even taller than he appears to be in his avatar. For maximum conversational possibilities, I recommend that you memorize the full script of €œSo I Married an Axe Murderer.€
Don't believe Cyclops' Droopy Dog demeanor off the bike. Balance him atop a bit of carbon fiber and he'll jet off like a rocket. Don't ask him to double-shift, but do ask him about his previous pursuits: street luge, BMX racing, and rock and roll.
Drew appeared promptly at 9:30am and kept the lead group moving without a sweat.
Eight Zero kept us on the right course, appropriate for someone who once taught astronauts how to fly the Space Shuttle.
Most people wouldn't have the guts to start their winter training with this length of a ride. Adam did and kept up a steady pace.
Tim rounded out the group and kept the average height above 180cm.
It was the perfect combination of every kind of road cycling. A mix of hills, flat, forest, and open blue sky. Overall a great ride!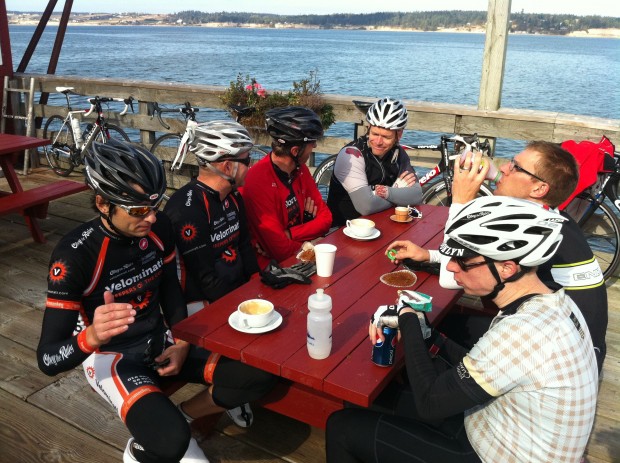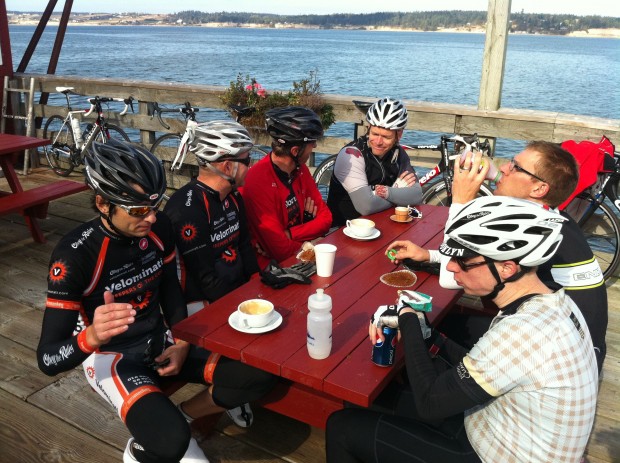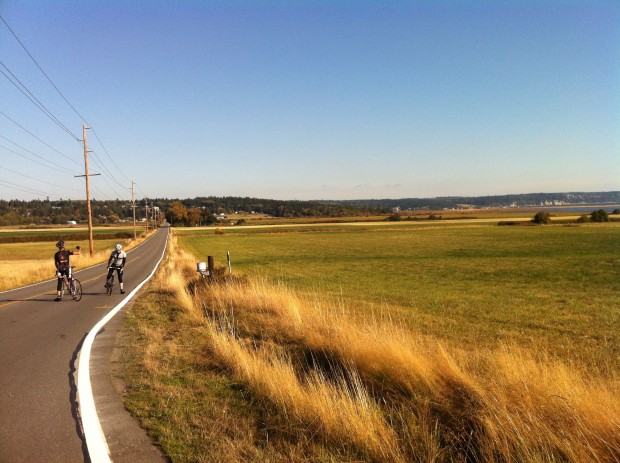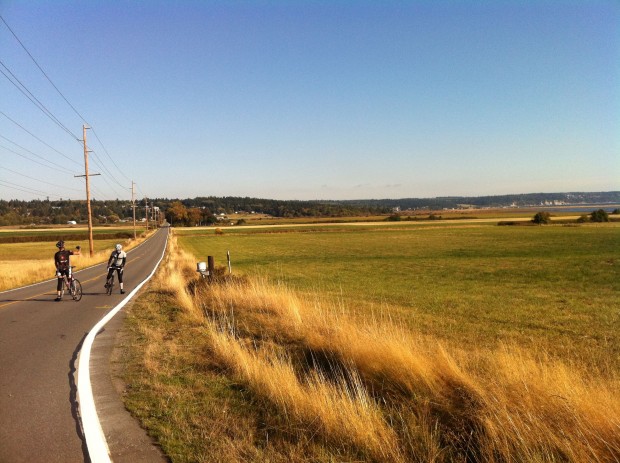 McSqueak's Take
Firstly, I must confess that my dear VMH thought that meeting "strangers from the Internet for a bike ride" was a clever front by an international crime syndicate to steal internal organs for resale on the black market, and that I'd wake up in a bathtub full of ice, one kidney lighter.
I discounted this notion, as I didn't think organ harvesters would know so much about cycling. But I digress.
I don't think I can properly convey how much fun I had on the cogal, even through my warped perspective of heavy suffering on the seemly never-ending rollers; designed, I imagine, to highlight my peaking two months prior. Nothing much holds up to a group ride with a bunch of like-minded mates through the countryside on a crisp fall Pacific Northwest day.
The highlight for me was honestly riding with folks much more experienced than I, but receiving nothing but positive encouragement and camaraderie along the way. Despite completing my first century solo the week prior and coming into the ride with a slight mental cockyness because of that accomplishment, my legs and back just didn't want to operate along the same lines.
Indeed, for much of the ride I fought with my body as much as the hills along the route. Thankfully, Whidbey Island is home to a wonderful species of butterfly that kept me company along the way.
Oh, the scenery was pretty nice too, I guess. That is if you're into quiet country roads, loads of still-green trees, endless water and mountain views, quant seaside towns with dockside coffee shops, friendly business owners, and all of that overrated fluff.
I'm looking forward to the trend of self-organized Velominati cogals continuing for the foreseeable future, and that I have the chance to ride with everyone again as I grow into this wonderful sport.
[dmalbum path="/velominati.com/content/Photo Galleries/[email protected]/Adam Cogal 10.211/"/]
Eightzero's Take
Really, really enjoyed the Cogal. Stopped in to Quinn's pub on Capitol Hill of Friday. Never been there before, and it is a fine establishment. Lots of good beer on tap, including a marvy scotch porter. Met up with Grilla at the bar, McSqeek strolled, and we got some chow after Frank, Cyclops and Marco showed up. Note to self: don't try to debate Frank on the history of who won and who lost a bike race in the past. He's going to be right. (Yes, it was Indurain that Bruyneel was able to hang with once, not Hampstein. Once.)
Saturday dawn cold and overcast, but my VMH dropped me at the ferry dock for the 9am boat. I was the only ride on; the rest of the Velominati in attendance were in vehicles for the transfer to Langley. A calm day on the water, but the steep climb off the ferry into town was aided by a sticky bottle from Marco. Almost missed it, as just as they were coming up from behind, I heard the unmistakable squeak of a bald eagle to my right and was watching the white feathers. A nice ride of 8 miles or so to Langley on some steep rollers, and I got to the start in time for pre-ride espressi before the scheduled V-past 10 depart.
Couldn't find a nicer group to ride with, or a finer collection of equipment. I commented we could open a bike shoppe there on the spot that drew the response €œyeah, but we'd never sell shit.€ True that. Cyclops' LOOK is really cool. And here I am the only guy (other than Marco on Frank's TSX) on a metal bike. And quite possibly not on tubbies. I felt€¦great envy but at the same time, great pride to be part of the Velominati. Pride in your heart//from doin' it right//…
Roll out we did, and instantly we had 2 pacelines chatting it up. I quickly found my way to the back. Confession: I don't do a lot of group rides. Me and the VMH roll together because I can sit her wheel and see over her. She hates riding behind me because she can't see anything but my fat Ullrich ass. Everyone in this pack was *way* more experienced than me, and I had 3 goals. 1. Don't go Karpets/Clenbutador on anyone; 2. Keep up; 3. Have fun. Well, I did 1 and 3. Number 2? Not so much. First roller ok; second one€¦meh. Third, and I'm shelled and away go all those wheels.
Thank all  you guys for waiting. As I said, I would have been there sooner if some guy hadn't jumped out of the crowd and punched me in the gut. The day was still grey and a bit chilly (Frank seems to have no problem donning/doffing layers while sitting up on his bike at 25mph. Pro. I had to remind myself not to stare at the campy hub on the TSX past the sweat dripping from my cap) but a fine fall morning. Yes, my HRM showed continuous 185-190 on each climb that was upwards of 12-15% in places. Oh my Merckx€¦there's a reason I run a compact 50×34. It's because I Can't. Go. Any. Fucking. Faster.
So, when the beautiful backroads of Whidbey intersected the main highway that runs down the center of the Island, I had to say farewell to the peloton. They were headed to Coupeville and the remaining 110kms; I headed back to the ferry.
Alone on Whidbey is really a great ride too. I could now look around a lot more rather than concentrate on not crashing into Marco (mmm€¦campy hub€¦.). The weather was now becoming sunny, and the view of the Olympic mountains was great. More bald eagles near South Whidbey State park. No traffic, fantastic road. I must ride over there more often. On the final stretch back into the ferry, I noted a slow leaker in my rear tyre was making for something of a squishy ride. It held out enough though to make it back. A shrimp po boy in Mukelteo for lunch after a 50 mile ride capped a great day.
I saw everyone else made the full 160kms. Schweet! That is a hilly course, but bet it was fantastic. Hope to ride with the Velominati again €" great fun! Thanks to all; Cyclops for setting it up; Frank for arranging, and for all the camaraderie from everybody. Great to be a part of something like this.
Drew's Take
My ride started out like many of my rides do; with a really long drive. I started the morning in the dark in Vancouver at 6:15 am, glad to be driving and crossing the border with no traffic. It didn't take long before I had one of those moments where you feel less than hardcore when I passed two cyclists in full kit with both headlights and taillights getting an early start to a fall training ride.
The drive was blessedly uneventful, but I kept running through the possible scenarios of how the day could play out: would anybody else show? If they do show, will I be able to keep up? Does my kit match my ride well enough? Have I chosen the right component mix to complement my bar tape?
All of my worries were quickly put to rest when meeting the rest of the crew and getting on the road. One of the great things about riding with new folks on a long ride is just having the time to actually talk and cover more than just small talk. So after all the requisite poking fun at Canada was over (well in truth it was never really over, just slowed down), we were able to cover all of the important topics, most importantly cycling clothing, cycling components, the superiority of Campy to Shimano, and of course Chain Gate after Marko attacked several times while cross-chaining. (I think in truth, he cross chained deliberately and mis-shifted because he needed a break).
We all learned some things on this ride as well. One of the most important lessons is never trust the ride profile created by MapMyRide, it might show only 2 to 3% grade but what is actually there might be more like 9 or 10%. Another lesson that I continually re-learn is that every descent is followed by an accompanying climb, in the case of this ride almost immediately. We also learned that the Map My Ride mobile App isn't really good to have along with you on the ride, as it doesn't really provide positioning information, only reference.
The riding on Whidbey Island did turn out to be fantastic. The topography was gently rolling with a nice mix of farm land, forested sections and nice coastal vistas. When we stopped for mid-ride esspressi we were able to look over a broad inlet and spot the cliffs that the road would take us to several kilometers later. There was one particular moment as we were rolling along between hay fields that we all agreed that this is exactly what we were looking for and what was expected.
My favorite stretch of the ride was along Smugglers Cove Road, a welcome back-road after bombing down a long section of State Route 525. There was very little traffic, some nice short climbs and just great riding. Conveniently enough there was also a working phone booth complete with Yellow Pages somewhere not too far away from the middle of nowhere.
The last bit of the ride was completed in the waning hours of the day and included a climb that Frank magically conjured by a wish, just to keep Cyclops from taking a solo victory from a late break. We all rolled back into Langley to the cheering crowds, feeling satisfied and a bit wobbly (or at least I felt wobbly). Although we didn't complete the entire Standard Century route, I for one was more than happy to be at the end of a great ride.
Postride I was once again humbled and felt less than hardcore when driving north along Route 525 back to America's Crown (aka Canada). In the near dark I passed a Velominata out in full kit with headlights and taillights riding solo. Chapeau to her.
My thanks and appreciation go out to all the Velominatus that rode. I was welcomed into the group without question and felt comfortable right away. I was happy to share the road with you all for a day and look forward to more riding in the future.