Velominati Keepers Tour: Cobbled Classics 2012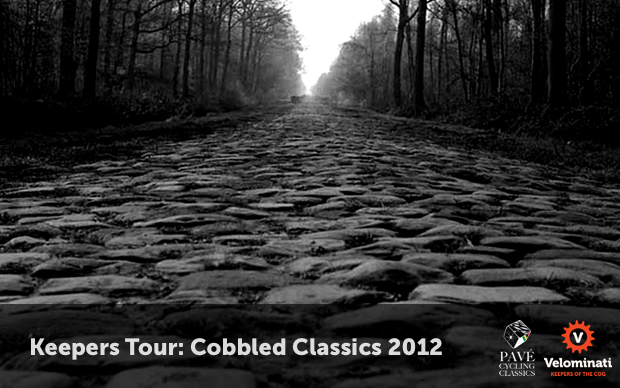 The Hardmen. They inspire us; we aspire to be one among them. They drive us to be better cyclists. They are the solitary voice among the thousands in our heads that tell us to keep pushing when all the others tell us to stop. Their long shadows look on in approval as we pull on our cold and wet weather gear and head out into the elements to ride.
Every Professional Cyclist is a hard man or woman; it comes with the territory. But to be given the title of Hardman, one must be more than just tough. Grand Tour champions are not given this title, nor are the winners of World Titles or King of the Mountains competitions. The Hardmen stand out among the rest as the ones who ride over the savage, jagged cobblestones of Northern Europe with a supplesse that is possessed only by those riders who thrive in the most torturous of road cycling's domains: The Cobbled Classics of Northern Europe.
Velominati has partnered up with Pavé Cycling Classics, based in Northern France, to offer the Velominati a chance to walk where Giants tread and pedal through the trench of Arenberg and up the devastating steeps of the Kapelmuur. To pedal with the Pros during their reconnaissance of the Paris-Roubaix route. To visit the Merckx factory, and to spend an afternoon riding with Johan Museeuw, the last Lion of Flanders.
We have arranged for 9 days of Cycling in Glorious Hell, hosted by the Founding Keepers, Frank and Brett, and organized by Pavé Cycling Classics. We will be staying in a Bed & Breakfast Cottage in Gent, and all services are included in the package. *Hangovers and massages for your aching guns and back sold separately.
Alex and William at Pavé Cycling Classics really know the Classics, and have put together an itinerary befitting a Velominatus, including rides on the Ronde van Vlaanderen and Roubaix routes, as well as visits to the Prophet's factory, and a ride with Johan Museeuw (pending confirmation of scheduling confirmed). It's the trip of a lifetime for anyone who has ever dreamt about Springtime on the stones.
Here is the Preliminary Itinerary:
Friday March 30th: arrival in Lille – lunch & introductions at the cottage in Gent.
Saturday March 31th: Ride Paris-Roubaix course (at least 180km from St Quentin to Roubaix, full ride available to those who dare) – Visit of the Roubaix Vélodromes (both old and new).
Sunday April 1st: Rest or short ride around the cottage in the Flanders area (morning) – Watch the Tour of Flanders in Oude Kwaremont and/or Paterberg.
Monday April 2nd: Visit to Eddy Merckx factory to pay our respects to The Prophet, followed by a Brussells downtown visit (more detail to come).
Tuesday April 3rd: Short ride around the cottage – visit to bicycle museum in Beveren (Roeselare) – 2 hours practice with a coach on the Eddy Merckx Velodrome in Gent (track bikes provided).
Wednesday April 4th: Follow the Grand Prix de l'Escaut Pro Race (http://www.scheldeprijs.be/nl)
Thursday April 5th: Ride with the Pros on their Paris Roubaix recon around Arenberg. Visit to the Brunehaut brewery in Belgium (where our Malteni beer is produced). Tour of  downtown Lille.
Friday April 6th: Ride Tour of Flanders course (150 and 200km routes available, full ride available to those who dare). Visit the Tour of Flanders museum in Oudenaarde.
Saturday April 7th: Cyclo Fléche Brabançonne (http://www.flandersclassics.be/nl/cyclo/brabantse-pijl) or ride in Flanders area.
Sunday April 8th: Follow the Paris-Roubaix race (taking in cobbled sectors around Valenciennes + Arenberg + L'Arbre). Depart.
All participants will be greeted with a Velominati Musette stuffed with a commemorative V-Pint and V-Shirt. Given the abundance of Belgian beer, the V-Pint will be well used. We will also have a Velominati Flag to wave at the races. As a final note, a Cogal welcoming all riders will also be arranged, details pending finalization of the itinerary.
Everything is included in this 9 days/9 nights package. Food, drinks, support car with spare wheels, visits, Gent velodrome ride, Cyfac bicycle for the rides (limited sizes and quantities available), energy food, and insurance. The only thing you have left to do is find your way to Lille. All-inclusive price for this trip of a lifetime is 2250€.
There is very limited availability for this program; reserve your seat at the table by signing up below. Priority is given in a first-come, first-served basis. Email [email protected] to register; serious enquiries only, please.